MVP Program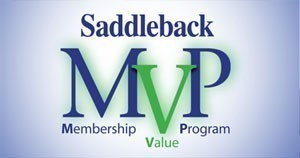 Welcome to Saddleback's Membership Value Program dedicated to our loyal plumbing, heating, and air conditioning service customers. Our three plans save you money – helping to ensure the value and efficiency of your home while assuring the health, safety, and comfort of your family. Membership has its value.
Why Become a Saddleback Plumbing Heating & Air MVP?
Just like changing the oil in your car, your home's Plumbing & HVAC systems DO need regular maintenance to keep operating at peak efficiency and lower the risk of a breakdown.
Remember, Properly Maintained Equipment...
Uses less energy – saving you money
Lasts longer – saving you money with 3 year parts & labor warranty*
Requires fewer repairs – saving you money
Works better – providing you with comfort and peace of mind
START SAVING TODAY WITH THE SADDLEBACK PLUMBING MEMBERSHIP VALUE PROGRAM!
Plumbing Value Plan – Plumbing System Assurance
3 Year Parts and Labor Warranty*
15% Discount off Standard Plumbing Rates
Free Annual Plumbing Inspection
No Dispatch or Trip Fees
Preferred Priority Service
HVAC Value Plan – Heating & Cooling System Comfort**
3 Year Parts and Labor Warranty*
15% Discount off Standard HVAC Rates
Two Semi–annual Precision HVAC Tune Ups
50% Off HVAC Diagnostic Charges
No Dispatch or Trip Fees
Preferred Priority Service
ALL STAR Value Plan – Comprehensive Heating, Cooling, & Plumbing System Coverage**
Total Peace of Mind
All Plumbing Value Plan Benefits & All HVAC Value Plan Benefits in one great cost–saving package!
MVP Preventative Plumbing Inspection
Check toilets and faucets for leaks
Inspect all exposed hot & cold water piping
Under sink piping
Check machine hoses
Test water pressure regulator
Inspect water heater and piping
Report of any necessary repairs
MVP Preventative Heating / AC Inspection
Thermostat
Inspect filters
Electrical connections

Check blower for adequate cooling/heating output

Refrigerant levels'
Outdoor & indoor coil
Safety controls
Lubricate condenser motor (if applicable)
Condensate drain leaks
Inspect heat exchanger (firebox)
Carbon monoxide test
Clean/check burners
Chimney flue
Safety control
Check for gas leaks at furnace
Interested in signing up? Contact us!
**Plan price is for first system. Each additional hvac unity is an additional charge.
*Warranty on any repair made by Saddleback Plumbing Heating & Air and must maintain constant membership in the MVP plan.
Does not include drain line stoppages. See MVP Agreement for details.