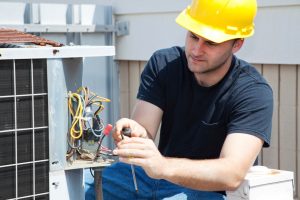 We're finally, finally getting into some consistently warm weather after the downpours of the last few months. This means that now is the time to make sure that your home is ready for the coming summer season, before the days get even hotter. That might mean making sure that your air conditioner gets preventive maintenance within the next few weeks, or it might mean replacing the system entirely. If you're not sure whether or not you need to replace your air conditioner this year, read on.
Higher Monthly Costs
You should always be monitoring your monthly bills, partially to detect warning signs like this one. Your air conditioning costs are going to rise and fall with how much you use the system, of course. However, that's quite different from an unexplained upward trend month over month. If your monthly costs are going up for no apparent reason, it could mean that you need to replace your air conditioner.
Typically, this happens because the air conditioner is so old and worn out that its efficiency is dropping. Dropping efficiency means that the system needs to operate for longer periods of time in order to compensate, which contributes to higher monthly bills.
Frequent and Costly Repairs
It's practically a certainty that you will need to have your air conditioner repaired at some point. Every few years, things just break down and need to be repaired. There's a big difference between that, though, and having to repair the system every few months. Very frequent repair needs like that tend to signal that the system is approaching the end of its life, especially if it's a different part that needs to be fixed each time. Most often, this is simply the result of wear and tear on the system reaching a critical point. There's nothing to be done about that but replace the system. You're replacing the entire system one part at a time anyway, so there's no reason not to just install a new one.
Old Age
Air conditioners have a shelf life of about 10-15 years under ideal circumstances. These will, of course, change based on your individual situation. You can keep an air conditioner operating for longer than that, if you want to spend the money and effort on it. It's not worth it, though. The longer an air conditioner is forced to operate beyond its usual lifespan, the more issues it will develop. At some point, it will breakdown and be unable to be repaired. If you're interested in cost-effectiveness, though, you should replace it long before it gets to that point. If you're not sure whether or not you can get a few more years of use out of your air conditioner, contact a professional and have them evaluate your system for you.
Saddleback Plumbing provides a full range of air conditioner replacement services in Mission Viejo, CA. If you think you may need to replace your air conditioner, contact us today to schedule an appointment with one of our experts.