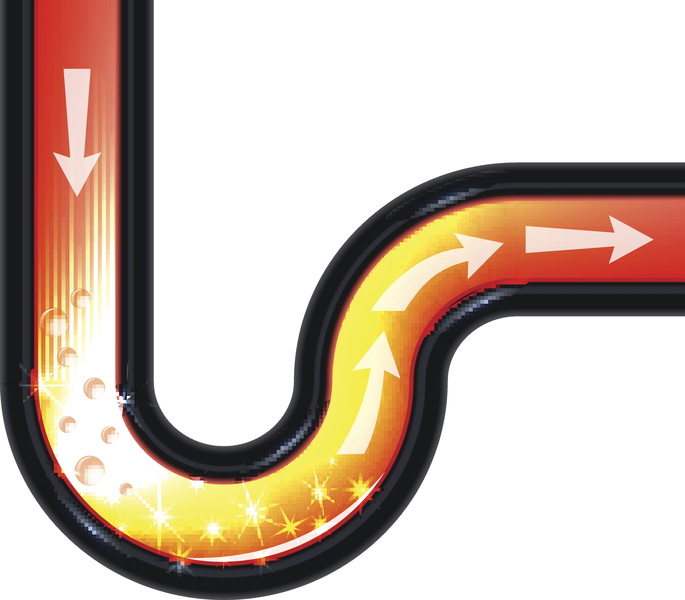 A topic that many professional plumbing contractors bring up at this time of year is how to prevent pipes from freezing in the winter. Well, for plumbing in Orange County, CA, that's never a problem! But that doesn't mean there a no seasonal difficulties for your plumbing in sunny Southern California.
One common plumbing trouble during the festive season is with clogged drains. Your kitchen plumbing probably just went through a rough work-out during Thanksgiving, and now it has more celebrations and visiting relatives and feasts to deal with. This often leads to homeowners calling for help to clear out clogged drains and jammed garbage disposals when they greet the New Year.
We want you to enjoy the holidays in peace, and we recommend you schedule drain cleaning if you haven't already. Drain cleaning is a good idea each year, so why not get into the habit now when your drains need it the most?
Drains Collect Too Much Buildup at the End of the Year
The drains all around your home pick up debris and waste along their walls at all times of the year. Bathroom sinks, showers, and tub drains collect soap scum and hair clogs. The kitchen sink is dealing with soap scum as well, but also food debris and the dangerous combination of FOG—fats, oils, and grease.
Think back to Thanksgiving. How much cooking grease and leftover fats ended up going down the drain? Plenty! The food people associate with feasting is some of the most harmful for drains (not to mention your garbage disposals). There are steps you can take to keep as much FOG out of the drains as possible, but you can't stop all of it. If you haven't had drain cleaning done in a few years, you may have extremely heavy organic build-up along the inside of the kitchen drainpipe. This makes it easy for the drain to turn slow or clog up entirely. It also leads to unpleasant odors from the drain and even sewer flies.
"Drain Cleaners" Are Not a Solution
No, you can't buy a bottle of "drain cleaner" from the store and use it to get rid of the debris in your drains. Drain cleaners don't actually clean. They use acidic chemicals to eat through clogs, and at best are a stopgap method that leaves behind most of the debris in the drainpipe. Clogs will come back soon. Worse, these chemicals are toxic and can cause damage to piping materials. They also end up in landfills. All around, chemical drain cleaners are bad news.
Our Drain Cleaning Experts Are the Solution
What can we, your humble local plumbers with three decades of experience, do for your drains? Simple—we can thoroughly clean them without damaging the pipes. We use the best tools for this job, such as using video inspection equipment to examine the inside of the drainpipes and high-pressure water scouring to fully blast away all the build-up in the drains. When we're done, the drainpipes will be like-new, with little chance of clogging of any kind.
Call Saddleback Plumbing Heating & Air—30 Years of Trusted Experience in Orange County!