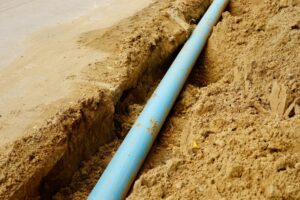 The tools used for plumbing work have changed dramatically over the last few decades. One of the big leaps forward came about because of miniaturization, digital, and fiber-optic technology. Where once it was impossible to see inside the pipes of a house, tools such as video pipe inspection equipment allowed for technicians to get a close-up view of water mains, sewer lines, and other pipes.
Video pipe inspection can help with many jobs in residential plumbing. We'll explain why this piece of equipment can make a difference in the service we offer for your home.
The Basics of Video Pipe Inspection Equipment
The standard piece of video pipe inspection equipment is a digital camera that can snake down into drains or sewer clean-outs. The miniature digital camera is mounted at the end of a lengthy fiber optic cable beside a powerful miniature LED light. The cable is long enough to snake the entire length of a residential sewer line if necessary. The cable connects to video playback equipment for the technicians so they can see the interior of the pipe as the camera moves through it. The technicians can record these images for later playback to show to the homeowner.
Best Uses of Video Pipe Inspection Equipment
Here are some of the ways we can use this technology to make plumbing jobs easier, faster, and more effective:
Leak detection: We have different methods of detecting leaks, but video pipe inspections provide the most accurate information. The video shows us exactly where a leak is located, as well as important information about its size and cause. We can use this information to pinpoint the leak and plan ahead about how to fix it.
Regular sewer line inspections: If you're worried that you may have a deteriorating sewer line, or you need an inspection for insurance or property value purposes, a video pipe inspection provides a detailed examination of the pipe without having to do any digging.
Clog inspections: Clogs in sewer lines or other drains that are difficult to remove may require some knowledge of what is actually creating the clog. With the video camera's information, we'll know the best approach to cleaning the drain or sewer line.
General problem diagnosis: There are numerous times when video pipe inspection helps us understand a range of plumbing issues, such as high water pressure, water hammer, and questions about repiping.
Double-check our work: Finally, after any job we've done on the drains or sewer line, we can check our work to see if the job was completed with a video inspection. We can show the customer the results as well.
Call Us for the Best in High-Tech Plumbing Service
We are always at the cutting edge of the technology available for plumbing in Mission Viejo, CA. We started in business almost forty years ago and we've upgraded with each new advance and seen that our technicians have the proper training. This allows us to give you the finest service possible.
Call Saddleback Plumbing Heating & Air for Fast Professional Repairs. Serving Orange County Since 1981.