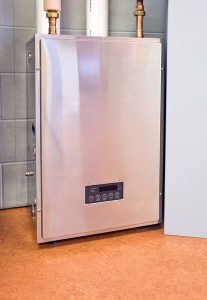 Homes in Orange County rarely need to worry about their heating systems. The weather is warm most of the year, with only an occasional cool stretch in the winter and scattered days of rain.
But there's one heating system that does plenty of work and does it almost every day of the year: the household water heater.
The water heater accounts for a large amount of household energy use per year, and it's an essential item for a home's plumbing. This is why we urge people to make upgrades from older water heaters to newer ones (especially if the current water heater is more than twenty years old). A newer water heater can make significant changes in energy savings.
A Tankless Water Heater Is a Great Option
This brings us to the tankless water heater, which is an increasingly popular choice for new water heaters in California.
The technology of the tankless water heater isn't new. But it wasn't until the past few decades that it became effective enough that these units started to replace many older storage tank water heaters.
The operation of a tankless water heater is straightforward: the unit applies heat to water as it moves through the system, turning on only when a tap turns on and causes the water to move. The tankless water heater doesn't need to keep water stored at a constant temperature; rather, it heats water as it is needed, and only heats as much as is needed at any time. This is beneficial for several reasons:
It uses less energy than a standard storage tank water heater because it only turns on when there's demand for water. A storage tank water heater must turn on regularly—regardless of the demand for hot water—because the tank continues to lose heat through its walls.
The tankless system doesn't run out of hot water because it is always heating up more.
It will last longer than other water heater types because it doesn't have the stress of water storage or the constant energy use.
A Tankless Water Heater Isn't Always the Best Option
If you think a tankless water heater does sound like the best possible water heater you can buy, you might be right. But storage tank water heaters are still around, and for good reasons—in some cases, they are the better choice for a home.
Tankless water heaters are a more expensive choice, and so they may not be the right fit for a household budget. Yes, they'll save money in the long run, but the short-term savings may be more important.
Putting in a tankless water heater may involve making changes to the plumbing system to accommodate it, and this may also make the system less cost-effective a choice. If it's easier to have a new tank system installed, there's nothing wrong with going with that choice. The current top-of-the-line storage tank systems are up to the job of providing homes with the hot water they need—as long as they're professionally sized and installed.
To find out more about getting a tankless water heater in Mission Viejo, CA, or elsewhere in our Orange County service area, speak to our expert technicians.
Saddleback Plumbing has served Orange County since 1981. Schedule your water heater services with us.