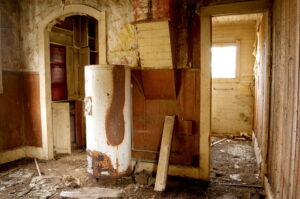 You can expect a service life from your gas-powered storage tank water heater (the most common type) of 12–15 years, possibly longer if you stay diligent with annual maintenance and always call for prompt repairs when anything goes wrong with the system. Electric tank water heaters can last for several years longer.
During the life of your water heater, corrosion is the biggest foe to watch for—the one that can bring your water heater's service life to an end. Corrosion occurs when water meets metal in the presence of oxygen, so any water-using appliance made of metal is at risk of corrosion, particularly rust.
Does corrosion on your water heater mean the end of the line for it? Can you have it repaired or is it time to call us for a new water heater installation in Orange County? We'll address these questions below.