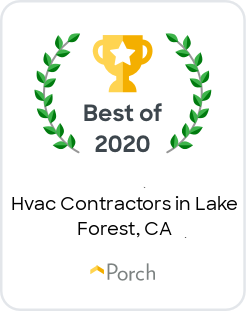 We're thrilled to announce that we have received one of the most coveted and respected awards in the home service industry: The Best of Porch Award. This award goes to service professionals who have maintained the highest service rating and reviews on Porch.com during the year. Only 1% of service professionals on Porch.com receive this recognition.
It's no surprise to us at Saddleback Plumbing Heating & Air that we earned this honor. We have a long history of providing the kind of quality service that makes customers leave rave reviews. We also meet all the strict eligibility requirements: a consistent record of response rate to customer requests; full licensing, bonding, and insurance; and almost no customer complaints.
We'd like to thank our many customers who have taken the time to provide positive feedback about their experience with us. All our customers are the reason we're in this business, and we'll continue to provide the level of service that earned us the 2020 Best of Porch Award into 2021 and the years after!
Saddleback Plumbing Heating & Air has served Orange County since 1981.