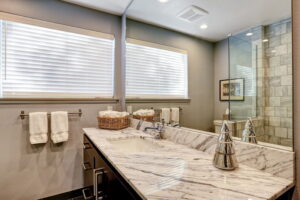 Everybody is looking to make some changes this year, to get a fresh start or some new energy into their lives after a not-all-that-great previous year. Doing some home remodeling is a great way to make a change to your house, and the bathroom is one of the best places to remodel. It may not be as flashy a remodel as a kitchen, but it contributes greatly to your personal comfort.
If you are considering a bathroom remodel this year, something to focus on is making important plumbing replacements. The bathroom has more plumbing in it—from pipes to drains to fixtures—than any other room in the house. A remodel is more than new countertops and cabinets and storage; you'll have some choices to make about plumbing replacements.
Repiping
You don't have to do a complete replacement of the pipes in the bathroom when you remodel, but it's a good idea to have most replaced. This does two things. First, it helps extend the life of plumbing in the remodel, especially if you live in an older home and the same plumbing has been in place since you moved in. Second, it makes the rest of the remodel much freer, since the design doesn't have to be built around the plumbing. The plumbing remodelers will use the most up to date materials for the piping, such as flexible plastic that can best handle the hot water lines.
Low-flow toilet
We think this is one of the best additions to a bathroom. Toilets are not "forever" appliances; they wear out over time. Worse, old models are immense water wasters, sometimes using up to 6 gallons per flush. New low-flow models can use less than 1.5 gallons per flush, and there are also dual flush toilets that can decrease water use without any loss of performance. Bathroom toilets account for the most amount of water used in a home, so this change can make a huge difference for your water bills.
New shower
Do you not like your old bathtub-shower combination with a curtain that needs to be swapped out every year? A walk-in shower is a fantastic and stylish upgrade. Not only are walk-in showers more attractive and easy to use, they are flexible in their size so they can fit into any type of remodel.
New sink
You can get creative with a new sink, because there are so many options for styles. Pedestal sinks bring an old world charm, vessel sinks are beautiful and modern, undermount sinks allow for more storage space, overmount sinks are the easiest to change out, etc. When changing the sink, you can also opt for new designs on the faucet as well.
The way to get the best from your remodel is to work with the pros who know how to tackle bathroom plumbing remodels in Newport Beach, CA and the rest of Orange County. We have a long history of working on local plumbing, and we can help make your remodel the best it can be.
Saddleback Plumbing Heating & Air has served Orange County since 1981. Schedule service with us today.