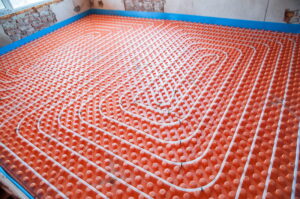 Heating for homes in Orange County is usually done with forced-air systems, such as a furnace or heat pump. But the popularity of in-floor heating has grown over the last decade as an alternative to having heated air blown out of vents. You may live in a recently built home that took advantage of the benefits of in-floor heating, which means you have a hydronic boiler supplying the heated water that runs in cables under the subfloor to deliver heat. This system needs special care, and there are not many local HVAC contractors who work with them.
But we're proud to offer hydronic boiler repairs in Newport Beach and throughout Orange County. When you have trouble with a hydronic heating system that isn't doing its job, call us to take care of it.
Some Reasons You May Have Faulty In-Floor Heating
This is not an exhaustive list, but it covers the more common problems we encounter when doing in-floor heating repairs.
Air bubbles: This is an issue that can happen in any hydronic system. Air bubbles aren't supposed to form within the closed system of a boiler, but when they do they create a block in the pipe known as an air lock. If you notice only parts of the house aren't getting heating from the floor, it may be air locks. Our technicians can bleed the system to remove these.
Broken circulator pump: This pump is the major mechanical part of a hydronic system. It pumps water from the boiler tank to circulate through the cables of the subfloor. If its motor breaks, the water won't go anywhere. A faulty circulator pump can also lead to a decline in performance, even if water is moving around.
Broken zone valves: These individual valves allow the movement of water to specific areas of the house. When you choose to shut off heating to one or more zones, the valve is what closes off that part of the piping. A broken or stuck valve will lead to zones with no heating.
Leaks: Any system that uses water can suffer from leaks. Leaks are most likely to occur at joinings or around the boiler itself, but they can occur in the cables of the subfloor. The leaks pose the problem of water damage along with a decline in heating ability.
Gas flow issues: The trouble may be coming from the gas heating for the boiler. Low gas flow, stuck gas valves, and dirt on the burners can all result in water that isn't being heated enough.
Thermostat problems: There's always the possibility that "the thermostat did it," and faulty readings are resulting in some rooms not receiving heated water to the in-floor cables.
Call the Local Pros
In-floor heating systems are a wonderful luxury, and you want yours to stay in great condition. We're the people you can trust to handle repairs for your hydronic boiler or other parts of the heating system. We're not only experienced with heating technology, but with plumbing as well.
Saddleback Plumbing Heating & Air has served Orange County since 1981. Call today for all your heating and air conditioning needs.