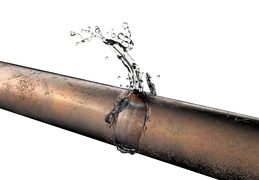 We use the most advanced technology and tools available for all the plumbing services we provide. The plumbing industry moves fast with new advances, and we've been in the industry for almost forty years—there have been numerous big shifts in technology during that time!
One of the most important tool developments for plumbing is digital video and miniaturization technology that allows for video pipe inspection equipment. We often use video pipe inspection during a range of jobs. We're going to explain in a bit more depth what video pipe inspections are and when you may need this service done for your plumbing in Laguna Niguel, CA.
A Tiny Camera on a Cable
That's the extremely short description of what video pipe inspection equipment is. This tool allows a technician to send a miniaturized digital camera down into pipes so they can be examined from the inside—once something that would be thought impossible. Today, we can mount an HD digital camera onto the end of a long fiber-optic cable, along with a powerful LED light, and then feed that cable into a drain or a clean-out. The cables are long enough to allow a technician to examine the entire length of a home's sewer line if necessary. The images from the camera are sent back to monitors, and the technician can record the inspection to show to a customer later.
When This Is Useful
If you're thinking about when you would need to schedule video pipe inspection, you're sort of asking the wrong question. This equipment is used for a variety of different services. For example, one question you might ask: "Are roots clogging up my sewer line?" We can answer that question for you by using video cameras to look inside the sewer line. Before this technology, we would have to dig down to reach the sewer line to examine it. Now we can find out what kind of trouble your sewer line has quickly and without any digging.
Another question: "Why are drains slow?" We can examine the drains in your house with video pipe inspection equipment and discover if you've got build-up and what kind. We'll know exactly how to tackle the problem.
We can also use video pipe inspection to see if your pipes need to be replaced because of damage. Since so many of your pipes are hidden down in the walls and ceilings, it's easier for us to examine them from the inside.
Another use for video pipe inspection is in leak detection. Once we narrow down where we think a leak is occurring, the video cameras can give us an exact spot. This lets us fix the leak with a minimal amount of excavating into your walls and floors.
You won't have to worry about how a job will get done when you call on our team. We always bring the best equipment and know how to diagnose the issue so the work will be done accurately and without major disruption to your home.
Saddleback Plumbing Heating & Air has served Orange County since 1981. Look to us for the best air plumbing service this summer.