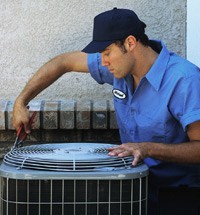 We're finally moving into heating season, which means you'll be switching your heat pump over to heating mode soon. Before you start relying on your heat pump too often to keep your home warm, though, there are some steps you should take to make sure it is ready for the added demand. One of the best things you can do to make sure your heat pump is ready for the winter is to schedule professional maintenance. That applies even if you have already had maintenance done in the last six months. Read on to find out more about why you should schedule heat pump maintenance this fall.
Preventive Maintenance
The name of the game when it comes to preventing damage to your heat pump is "early detection." A lot of issues that can affect heat pumps develop slowly. It can be difficult to detect heat pump issues by just waiting for symptoms, because by the time they show any they already will have started to damage the system. You should attempt to catch problems before they start showing symptoms, if you want to keep your heat pump as healthy as possible for as long as possible. The best way to do that is with preventive maintenance.
A preventive maintenance appointment gives your technician the chance to closely examine your heat pump for any developing issues. Any problem areas that are identified can be resolved before they get any worse. Heat pumps that receive regular maintenance have been shown to operate up to 40% more efficiently than systems that do not. They've also been shown to be up to 90% less likely to develop problems in the future. You need to schedule maintenance often enough if you want to reap those benefits, though, which brings us to our next point.
Scheduling Maintenance
For most climate control systems, having preventive maintenance done once a year is sufficient to keep them in good shape. This is because most climate control systems only have one season out of the year in which they are put under added demand. Winter for heaters and summer for air conditioners. Heat pumps are a bit different, though.
Because a heat pump is used as both an air conditioner and a heater, it accumulates wear and tear twice as fast. This means that it is twice as likely to develop problems from increased demand as other systems are. If you want to reap the same benefits from maintenance appointments, you should schedule it twice as often for your heat pump. Ideally, you should have the system professionally checked once during summer and once in fall. This should be enough to keep your heat pump in the best possible shape throughout the year.
Saddleback Plumbing provides comprehensive heat pump maintenance services in Laguna Hills, CA. If you need heat pump services of any kind, contact us today to schedule an appointment with one of our expert technicians. We'll make sure that your heat pump is ready to keep you comfortable throughout the winter season.