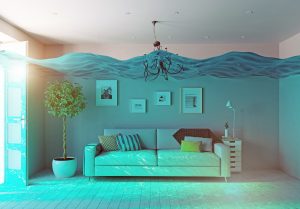 Plumbing problems are some of the most difficult to detect, which makes maintaining your plumbing system quite difficult at times. By the time that you realize that your plumbing system is experiencing some kind of problem, it may be too late to prevent much of the damage caused by whatever the issue is. The best way to catch problems quickly enough to resolve them before they do any damage is to schedule preventive maintenance. However, if you know what to look for you can still identify some issues before they cause too much damage. Read on to find out some of the ways that you can identify issues with your plumbing system without professional training or equipment.
Check the Water Meter
The most common problem that plumbing systems tend to deal with is leaks. Some leaks are large enough to noticeably impact the water pressure at your faucet. Not all of them are, though. Some leaks, like pinhole leaks, are small enough to go unnoticed for months. Most homeowners only find out that they have a pinhole leak after finding extensive water damage to the surrounding area. One easy way to tell if your plumbing system has a leak in it is to turn off all plumbing appliances in your home, then check the water meter. If the water meter isn't running, then you probably don't have any leaks in the system. If the meter is still running, then you probably have a leak diverting water out of your plumbing system somewhere.
Watch Your Water Bills
It's never a bad idea to monitor your water bills, for reasons just like this. If your water bills start to spike from one month to the next, with no obvious increase in usage on your end, it is possible that there is a leak somewhere that is contributing to that. There are other possible causes, of course, but you should still probably call a professional just to be safe.
Dropping Water Pressure
Falling water pressure could be the result of a couple of different issues in the system. It's possible that you have a leak that is diverting water out of the pipes, as we discussed above. However, it's also possible that you have a blockage forming in the system. This could be due to lime scale, which is a kind of mineral deposit formed by exposure to hard water over a long period of time. It's also possible that you have some sort of foreign object stuck in the pipes, though that happens less often. Be especially wary of falling water pressure that affects your entire home. If that's the case, it could indicate that you have a problem with your water line. That is something you're going to want to have addressed as soon as possible, as it could cripple your entire plumbing system.
Saddleback Plumbing provides a full range of plumbing services in San Juan Capistrano, CA. If you need help with your plumbing system, contact us today for an appointment.