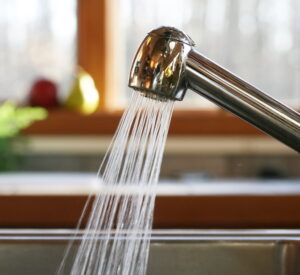 The kitchen doesn't have the largest concentration of plumbing of any room in the house (that's the bathroom), but it does have a variety of fixtures, appliances, and a complex network of freshwater pipes and drains. Handling repairs, replacements, new installations, and maintenance for kitchen plumbing is a large part of our job. Today, we want to tell you some of the ways that we can make your kitchen plumbing better.
Clean the drains
It doesn't matter if your kitchen drain isn't currently clogged—professional drain cleaning is a beneficial service we recommend people have done each year. We use powerful equipment to thoroughly scour drains and leave them in like-new condition. This prevents clogs from developing, helps the drainpipes last longer, and eliminates foul odors that can result from organic build-up.
Replace an old sink
We offer full sink-replacement services for times when you no longer want to repair your old sink—you want a new one instead. In fact, we can even take care of installing a new sink that's part of a larger kitchen renovation. If you're tired of your current sink and are ready for a change, let us do the work.
Replace an old garbage disposal
Maybe the sink isn't the problem. It's a garbage disposal that isn't grinding down food as well or is regularly stopping and needing to be reset. Disposals won't last forever, and most have a life expectancy of around ten years. If you've got an old disposal that's giving you problems, we can quickly replace it with a new one. (If it can go a few more years with repairs, we can do that too!)
Put in low-flow fixtures
For older kitchens (20 years or more), we recommend changing out the major fixtures like the faucets with water-saving low-flow fixtures. These changes will significantly help you lower the amount of water you use every day in the kitchen without any noticeable change in water power or convenience.
Install a new dishwasher
Are you thinking of getting a new dishwasher? If you are, don't try to handle putting it in yourself! A dishwasher needs proper connections to the water line and to the drain, and getting any part of this wrong can leave you with a dishwasher that leaks and spills water all over your kitchen. You can call us to have a new dishwasher installed, and we'll make sure the job is done correctly.
Unclog your ice maker
Here's a part of your kitchen plumbing you may not have thought of as "plumbing." If you have an ice maker in your refrigerator, it has a water line feeding it. This line can become clogged and cause the ice-maker to stop working. If it's not in the refrigerator itself, this problem requires a plumber to fix it. 
Want to know what else we can do for you with our plumbing service in Laguna Niguel, CA? Simply reach out to us—we can handle all your kitchen plumbing needs.
Saddleback Plumbing Heating & Air has served Orange County since 1981. Schedule service for your kitchen plumbing today.