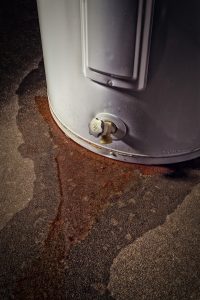 A water heater is a vital part of any household, and it is also one of the biggest sources of energy consumption in the home, whether it's a gas-powered or electric unit. These facts together make it important to know when you need to schedule a water heater replacement in Mission Viejo: a water heater that's too aged will put your hot water supply at risk and will cost too much to run as it drains excessive amounts of power.
So how many years can you expect to get out of your current water heater? We can't give you a definite single answer, but we can provide you with several answers, as well as help you understand when the time has come to get a new water heater.
Average Service Life Expectancy
A standard gas-powered storage tank water heater (the most common type) can last around 10 to 12 years. Much older cast iron models could last far longer than this, which is why some people imagine their water heaters can hit 30 years. But those systems were enormous, expensive, and inefficient. Electric water heaters have longer lifespans because they have fewer components that wear down, so you can tack on two years to the life expectancy for one of those.
Then there's the tankless water heater. We often recommend people look into tankless water heaters because of the advantages they offer, and one is their longer service lives. Tankless water heaters run less frequently than tank models, and this reduces their wear and tear. The average lifespan for a tankless water heater is 20 years.
Other Factors
The estimates above leave out several factors that can affect the lifespan of a water heater, usually adversely.
First, for a water heater to reach its best service life, it must have regular maintenance. Without routine inspections, tank flushings, and changes to the anode rod, a water heater may need a replacement after only five or six years. If you haven't kept up with maintenance, your water heater may be coming to a premature end.
Hard water and high water pressure in a house will also have a negative impact on a water heater's lifespan. High water pressure puts too much strain on the system's parts, while hard water creates excess sediment inside the tank that hinders efficiency and which can create limescale along the tank walls. Thankfully, you can have both problems solved with the help of professionals. A pressure regulator for the house takes care of high water pressure, and a whole-house water softener will remove hard water troubles. These solutions are not just good for the water heater, they're good for all of the household plumbing.
When in Doubt, Call for Help
If you have noticed a rise in your energy bills, heard strange sounds from the water heater tank, noticed a drop in the hot water available, or spotted leaks from the water heater, it may be ready to be replaced if it's in its upper age range. But you don't have to guess: you can call our experts and they'll be able to give you knowledgeable answers regarding the next step.
Saddleback Plumbing Heating & Air has served Orange County since 1981. Call us for water heater service.