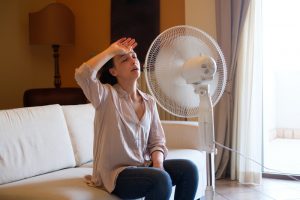 Right now we're in the middle of the worst heat of the summer in Southern California so far. This is when you most want your AC to work reliably and without needing emergency repair calls. But what makes August heat waves so difficult for air conditioning systems is that they've already been working regularly for a few months—plenty of time to build up dirt and stress that can lead to serious problems when the pressure is on from 90°+ heat!
If your AC has already gone through a rough summer, here are ways to tell that you may need to call us for preventive air conditioning repair in Rancho Santa Margarita, CA before the trouble becomes an AC that won't cool at all.
Hot Spots Around the House
Ghost-hunting shows always talk about "cold spots" as warning signs of spectral activity. Hot spots in homes are more mundane: they are signs of poor operating air conditioner activity. The reasons uneven cooling in a house is something to watch for is that it can indicate many different troubles with the HVAC system. It could be a faulty blower fan, a clogged air filter, a refrigerant leak, short-cycling, and leaks in the ducts. You want the professional HVAC detectives on this case to find out whodunit.
Strange noises from the cabinets
Either AC cabinet—indoor or outdoor—making weird sounds is a cause for concern. You should only hear the whir of the fan and compressor motors as well as occasional clicking and water dripping coming from these cabinets. Noises like grinding, metallic shrieking, hissing, clanging, or constant clicking are telling you to get repair techs in on the job.
Ice on the evaporator coil
Never dismiss the sight of ice on the air conditioner. Ice is not a normal part of AC operation, even though it's easy to mistake it as standard. If the evaporator coil has ice on it, it's probably because of a build-up of dirt on the coil that's blocking its ability to absorb heat and warm up the cold refrigerant inside it. It might also be due to refrigerant leaks or compressor issues—have it checked out!
Short-cycling
A central air conditioner is designed to run in cycles to prevent excessive wear on components. An AC cycle usually lasts for more than fifteen minutes; the more cooling it needs to do to reach the temperature on the thermostat, the longer it will run. If the AC goes through brief cycles under ten minutes, that's too short. The system will drain excess power and not stay on long enough for proper cooling. Many problems can cause short-cycling, and you'll want the pros investigating it as soon as you notice it.
General decline in cooling capacity
Does it seem you can't run the AC often enough, and the house still isn't cooling down enough? This may be a sign of the air conditioner's general age, but it could also be refrigerant leaks or a compressor problem. No matter what, delaying calling for repairs will make the situation worse. We're here to help you solve all cooling concerns, so reach out to us.
Saddleback Plumbing Heating & Air has served Orange County since 1981. Schedule service to find out if your AC has late-summer troubles.