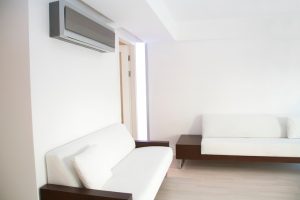 Ductless technology has become more popular with homes in the US over the last decade. You might be one of the many homeowners who has wondered if using a ductless mini split system to cool your home is a good idea. Making the change from a familiar central HVAC system that uses ducts can seem intimidating, but our technicians can help you with deciding about a ductless AC installation in Orange County.
So … is a ductless AC a good choice for your home? How can you benefit from one?
The Basics of Ductless Systems
Before looking into whether a ductless AC system is ideal for your situation, we need to describe these devices a bit more. Although we often refer to these as "ductless ACs," they are actually types of heat pumps, which means that they work as both cooling and heating systems. Like standard ducted heat pumps, they can change the direction they move heat so they can either remove heat from the house or bring it indoors.
Ductless mini split heat pumps have an outdoor unit similar to a conventional AC or heat pump. But instead of connecting to a single indoor evaporator and air handler that sends conditioned air into a network of ducts, a ductless mini split's outdoor unit connects to several small air handlers placed around the house. These air handlers are mounted on exterior walls of different rooms. Each one has its own blower and refrigerant coil so it can send conditioned air directly into the living space. Most ductless systems can have 1 to 8 blowers per outdoor unit.
Ways a Ductless System Can Benefit You
There are several major benefits of ductless mini split systems. Not all may apply to your home or situation. See which ones look most enticing to you.
Heating and cooling: Heat pumps in general, whether ductless or standard, work well for Southern California's weather—powerful cooling for intense summers, the right energy efficiency for mild winters.
Work well with older homes: If you live in an older home that doesn't have ductwork, a ductless mini split gives you a much better option for whole-house cooling without having to use ugly, unsecure, and inconvenient window ACs.
Flexible for remodeling: When planning a major remodel for your home, you can bypass worrying about ductwork entirely. Changing over to a ductless system gives you the freedom to remodel the house the way you want and reclaim space from the ducts.
Good for hard-to-cool-and-heat spots: Do you have parts of your home that never seem to be at the right temperature no matter how you set the HVAC system? You can use a ductless mini split as an addition to your HVAC system to target these areas.
Helpful for allergies and asthma: Because ductless systems don't deal with an accumulation of dust inside ductwork, they send around cleaner air in the house. This is helpful if you have people in your house who suffer from asthma and allergies.
Saddleback Plumbing Heating & Air has served Orange County since 1981. Talk to us to learn more about ductless air conditioning systems and their benefits.