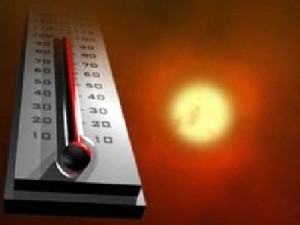 Here in the OC, we're no strangers to hot weather. But with extended periods of temperatures that register in the triple digits, many homeowners aren't used to such extreme heat. It's essential to know how to set your AC during a heatwave so you can avoid needing AC repair in Orange County when the forecast calls for unusually hot weather.
Unfortunately, it's unlikely that your home will reach an indoor temperature of the high 60s or low 70s that you might be used to. That's because air conditioners can only cool your home about 20°F less than the outside temperature. That means when it's 100°F out, the best AC in the world can only get your home down to 80°F.
So let's go over some tips on how to use your AC during a heatwave where the temperature registers in the triple digits.
1. Set the thermostat higher.
As we mentioned, it's unrealistic to expect your AC to cool your home down by 30 degrees. You can try setting your AC at 20° less than the highest forecasted temperature for the day. If it's supposed to be in the 90s, you can aim for an inside temperature of 78-80°F. This is the temperature that the Department of Energy recommends.
2. Turn the fan switch to the "on" position.
Turn your fan switch to the "on" position instead of "auto." This'll help with air circulation and also help rooms that are too hot or cool.
3. Keep curtains and blinds closed on extremely hot days.
A heatwave isn't the time to let the sun's ambient heat inside. Close all blinds, shades, curtains, and windows.
4. Use your ceiling fans
Your home's ceiling fans will help lower the temperature slightly and will also make you feel cooler. Set the fans to turn in a counterclockwise direction so they're pushing the cool air down where you can feel it.
5. Don't use heat-generating appliances during a heatwave.
When the forecast calls for a heatwave, get your laundry done before it arrives. Avoid turning on the oven, running the dishwasher, or using the clothes dryer when it's hottest out. In fact, a heatwave is a great excuse for an In-N-Out run!
6. Make sure you've had maintenance done this year.
Getting an AC tune-up is absolutely essential to avoid a breakdown or repair need during a heatwave. If you haven't scheduled maintenance this year, now's the perfect time to do so.
7. Leave the AC on when you leave the house.
When temperatures soar, your home could need 3 hours of continuous AC operation to lower the indoor temperature by just 10°. A more cost-efficient approach is to leave it running while you're gone, keeping it set at a moderate temperature.
8. Don't close the vents.
Some people think that closing the vents will direct the conditioned air to the rooms of the house where the vents are open. But all this does is make your AC work harder. Keep those vents open.
Contact Saddleback Plumbing Heating & Air for Fast and Professional AC repairs. We have served Orange County since 1981.