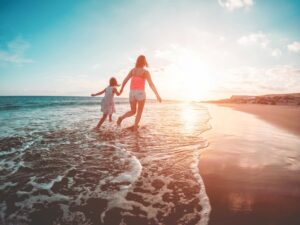 Summer is here and there's no place better than Orange County to experience all that the summer has to offer. The last thing you want to interrupt your summer fun is a plumbing problem.
Unfortunately, there are many plumbing issues that shouldn't be ignored. Otherwise, they have the potential to become major headaches. Let's go over five issues that warrant a call to a professional plumbing technician ASAP.
1. No Hot Water in the Shower Only
This is an unusual situation that can be quite perplexing for homeowners. When your shower isn't getting hot water but the sink does, you're probably wondering what's up. When you can pinpoint an issue with hot water to the shower only, the issue is likely with the shower's mixing valve.
The mixing valve is a control valve that creates the balance in the flow of water from the hot water line and the cold water line and blends the two together for your desired shower temperature. This valve can wear down over time or even break. Luckily, it's an easy fix for a professional plumber.
2. A Toilet Is Clogged or Overflowing
For a clogged or slow-draining toilet, you can try and use a plunger to dislodge the blockage. If that doesn't work, you need to call ASAP for a repair. That's because a toilet that completely backs up and starts overflowing into your home is a major health issue.
You don't want to let the wastewater in your toilet escape onto your bathroom floor and into the hallway or other rooms of your house. For an overflowing toilet, turn off the water valve under the toilet near where it connects to the plumbing in the wall. Don't attempt to flush the toilet again and give us a call. 
3. A Drain Is Completely Blocked
When you have a slow drain, that's something that can wait. But if there's a complete blockage in any of your sinks, showers, or drains, then this is something that needs to be fixed immediately.
Not only can you not use the sink or shower that's not draining, but stagnant water can become a major problem. Stagnant water is the ideal breeding ground for bacteria, mold, and insects. These can cause health problems so it's necessary to have this checked out ASAP.
4. No Hot Water
Your water heater should be able to keep your home supplied with hot water. If you're not getting hot water from any of your taps, this is a health and safety issue, not to mention a major inconvenience. Give us a call if you're not getting hot water. It's likely there's an issue with your water heater.
5. A Pipe Is Leaking
A leaky pipe can quickly become a homeowner's worst nightmare. Anyone who has dealt with water damage knows how problematic leaks can be. Don't think you can put if off by putting a bucket under the leak. Leaks can escalate quickly and have the potential to become a major issue when they can't be contained.
Saddleback Plumbing Heating & Air has served Orange County since 1981. Schedule plumbing service with our technicians today.