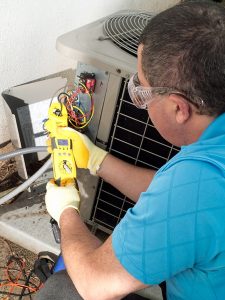 In our last post, we wrote about why it's important to schedule air conditioning maintenance service before the summer weather arrives. There are many potential AC malfunctions a maintenance inspection can catch, and one of these is noticing that the pressure of the refrigerant in the air conditioner has dropped. This usually means a leak a sprung somewhere, allowing refrigerant to escape. If this is the case, your technician can patch up the leak and put in the amount of refrigerant that was lost to restore pressure. You can trust our technicians with these services for your air conditioning in Orange County, CA.
But what about routine refrigerant replenishing? Is this something to have done before the summer, just to give the AC a bit of a boost?
No! This Isn't How Refrigerant Works
This is a common misconception about refrigerant and air conditioners in general. Refrigerant isn't a fuel that energizes the AC so it works harder and provides more cooling. The actual source of energy for an air conditioner is electricity.
So what does refrigerant do? It's a medium for heat transference. The blend of chemicals in refrigerant can change easily from liquid to gas and back again. As it evaporates and condenses, it absorbs heat and releases it. This is how an air conditioner pumps heat from out of the house: the refrigerant draws heat from the indoor coils and then exhausts it from the outdoor coils.
Now, think of a sealed globe of water. When you heat the globe enough, the water turns to steam. If you then lower the temperature, it will go back to water. Will there be any less water? No—as long as the globe is sealed, no water will be lost as it evaporates and then condenses.
The same applies to refrigerant. As long as there are no leaks where the refrigerant can get out, it will never lessen as it circulates through the AC and evaporates and condenses.
The short version: unless your AC unit has leaks, it won't need to have any refrigerant added to it during its service life.
The Perfect Refrigerant Charge
Each air conditioning system is designed to work with a set amount of refrigerant that maintains ideal pressure and allows the system to carry out heat exchange correctly. This is called the air conditioner's charge. If there is too little refrigerant or too much, it will start to damage the air conditioner. Cooling power will drop, the coils will freeze over, and eventually the compressor will burn out.
This is why it's vital you have repair technicians on the job for when you notice anything wrong with your air conditioner, and also why it's necessary to give the AC a check-up before summer. The sooner our technicians spot loss of refrigerant, the sooner they can patch the leaks and recharge the refrigerant to factory levels. (Only licensed professionals can legally handle refrigerant. Amateurs may also accidentally overcharge an AC, which will quickly ruin the compressor.)
Call Saddleback Plumbing for AC repairs. We have proudly served Orange County since 1981.