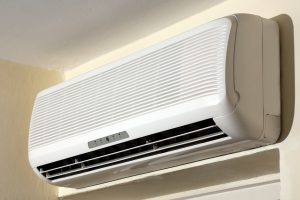 As we move into winter (finally, some cold weather!) more and more people are going to start relying on their heating systems to stay comfortable. If you're looking for a new heating system to keep your home warm through the winter season, there are a multitude of different options to choose from. Each heating system has its own advantages to offer, so it's important that you consider each option carefully before you decide on one. Have a look below at how a ductless mini split operates, and whether or not it would be a good choice for your home.
What Sets a Ductless Mini Split Apart
A ductless mini split is a heat pump, which means that it uses refrigerant to move heat from one place to another. Like all heat pumps, it is capable of reversing its refrigerant flow to offer both heating and air conditioning functions. Unlike other heat pumps, though, a ductless system does not use ductwork to distribute heat. Instead, it relies on individual air handlers to heat the home.
One air handler is installed in each room that is to receive conditioning, with up to four air handlers connected to a single outdoor unit. It's rare to have an air handler in each room of the home. Typically, the air handlers are installed in areas like bedrooms, dining rooms, and living rooms to provide climate control to the most used rooms. Each air handler has its own thermostat, which allows it to operate independently from the rest of the system.
Advantages A Ductless Mini Split Can Provide
Most homeowners install ductless mini splits for two reasons. The first reason is that they want to take advantage of the convenience of using a single climate control system year-round. After all, you can save a lot of money and space by using a single system for both heating and air conditioning instead of using two. Ductless mini splits are also much more energy efficient than standard combustion-based heating systems. Since they don't have to burn fuel to generate heat, they don't cost nearly as much to operate on a monthly basis.
The second reason that people install ductless mini splits is that they are much more convenient to use than most centralized systems. A centralized heater typically only applies the same amount of heat to the entire home, or no heat at all. There is no option for modulating the amount of output that each room receives. This lack of modulation often creates hot and cold spots throughout the home, which are uncomfortable for those inside.
Since a ductless mini split has a thermostat for each air handler in the system, a different temperature can be set for each room without changing the climate in the rest of the house. This makes it much easier to maintain a comfortable temperature throughout the house, even with differences in sunlight exposure, insulation, and air flow in each room. This also means that you don't have to worry about fighting with other members of your household over a single thermostat, as so often happens with centralized systems.
Saddleback Plumbing provides a full range of ductless mini split installation services in Laguna Niguel, CA. Contact us today for an appointment.