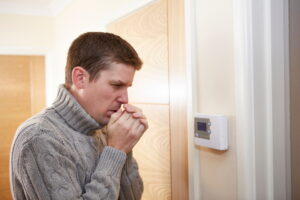 The local temperatures have been swinging back and forth during the start of the year, and it's conditions like this that will make you appreciate the power of your heat pump. You can enjoy energy-efficient heat that can handle our coldest Southern California days, and when you do need a touch of cooling, you only need to adjust the thermostat down for the heat pump to switch over to act as an AC. Our climate makes the most of heat pumps, and it's one of the few places in the country where heat pumps will switch back and forth during a season.
A heat pump can't be perfect, however, so you may run into a problem this winter where your heat pump just won't heat. It may be stuck in cooling mode, or its heating mode doesn't produce enough warmth. What's going on, and do you need heat pump repair in Orange County? We'll examine the "no heat" heat pump problem below—and when you need a solid answer and repairs, just call us.
The broken reversing valve
This is the most common reason for a heat pump to get stuck in one mode or the other. The reversing valve is the component that allows a heat pump to change between heating and cooling: the valve changes the direction that refrigerant rotates through the system, which causes the indoor and outdoor coils to swap roles.
The valve can become stuck or broken, and when that occurs the heat pump won't be able to change out of whatever mode it's currently in. To solve this, our technicians can remove the broken reversing valve and replace it.
Lost thermostat connection to the reversing valve
The problem may not be with the reversing valve itself, but the thermostat's connection to it. The thermostat sends an electric signal to charge the valve and causes it to change between modes. If the thermostat loses this connection, it will still signal other parts of the HVAC system to operate (those have separate connections) but leave the heat pump in one mode.
Airflow problems
If the heat pump isn't trapped in cooling mode but is not providing sufficient heat, there are several possibilities. A drop in airflow is a common one, which can be caused by a clogged air filter. Change the air filter to see if this improves performance. A bad blower fan or leaks in the ductwork can also contribute to a drop in airflow and less air getting heated.
Loss of refrigerant
This one is a serious problem, and the sooner you act on getting it repaired, the better. A heat pump can only lose refrigerant through leaks—it isn't used up during normal operation. Losing refrigerant will affect both heating and cooling and eventually cause catastrophic damage to the heat pump as it's designed to run on a specific refrigerant charge. Our technicians can fix this by first sealing the leaks and then recharging the refrigerant to its original factory level.
You can count on us to quickly get to the bottom of whatever has caused your heat pump to fall down on the "heating" part of its job.
Saddleback Plumbing Heating & Air has served Orange County since 1981. Arrange for heat pump repairs with our team—your satisfaction is guaranteed.