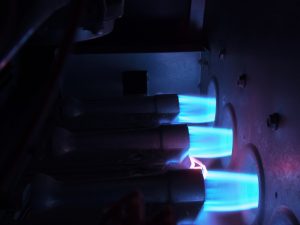 So far, this has been a cold winter for us in Southern California! Our temperatures may make many other parts of the country envious, but it's still cold for us. We imagine you've relied on your home's gas furnace through the holidays and have it going steady most days into the new year.
Unless, of course, you've got a gas furnace that isn't doing its job. A trouble people sometimes run into with gas furnaces is when they shut off too soon. "Too soon" could mean the heater is running for several minutes, or it could mean the heater is running for only a couple of seconds. Either way, your house isn't getting warm and you think you need heating repair in Orange County to fix it.
Below we're going to look at reasons you've got a gas furnace that won't stay on long enough. This will help you understand when you need the professional assistance of our technicians.
A miscalibrated thermostat
We'll start with the thermostat, since you probably started there when you were trying to figure out why the heater was turning off early. If the thermostat is miscalibrated, it will read incorrect indoor temperatures and register that the furnace has reached its target temperature when it hasn't yet. It will then shut off the furnace early. This is a basic fix for our technicians, although in some cases we may recommend updating the thermostat.
A faulty flame sensor
This is an example of a safety feature in a gas furnace that's doing its job too cautiously. The flame sensor shuts off the flow of gas to the burners if the burners don't ignite, which prevents unburned gas from flooding the furnace. If the flame sensor malfunctions, it will not sense the burner flames and shut off the gas anyway, shutting down the heating cycle too early.
An overheated heat exchanger
The heat exchanger is the part of the furnace that actually heats the air. The furnace has a limit switch that will shut the system off if the heat exchanger gets too hot. This can happen for several reasons, and one of the most common is lack of airflow through the furnace. Check the furnace filter to see if it's congested and replace it with a new one. The trouble may also be the furnace not venting properly, and you'll need a professional to fix that.
Gas flow problems
The burners in the furnace may not be receiving enough natural gas to stay lit. Gas flow issues can come from a range of problems, but you only want professionals to investigate this: it's hazardous for any non-licensed person to attempt to work on a gas line or gas-burning appliance.
A furnace that's too large
If this is a new furnace, the trouble might be that it's too large for your home. What's happening in the furnace is so rapidly raising the indoor temperature that the system shuts down early. An oversized furnace will waste money and wear down rapidly, and the only way to correct the problem is to replace it with an accurately sized furnace. (A wrongly sized furnace often happens if amateurs did the installation.)
Saddleback Plumbing Heating & Air has served Orange County since 1981. Call us to solve your home heating problems.