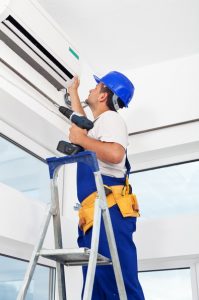 If you have the misfortune of being without a reliable air conditioning system this summer, it's time to have one installed. There are a great many options available on the market today when it comes to air conditioning. You should make sure to carefully examine each option before making a decision, so that you can get the best possible solution for your needs. Have a look at the ductless mini split, and the advantages that it can offer you if you install one this summer.
Ductless Mini Splits
A ductless mini split is a heat pump, but one that doesn't use ducts. Instead, the system uses up to 4 air handlers to condition individual rooms throughout the home. Each air handler has its own thermostat, allowing it to operate separately from the rest of the system. Up to four of these air handlers can be connected to a single outdoor unit.
Like all heat pumps, ductless mini splits are able to reverse the direction that refrigerant flows through their systems. This allows them to act as either heaters or air conditioners on demand.
Advantages of Using a Ductless Mini Split
There are a number of good reasons why you might want to go with a ductless mini split this summer. For one thing, you save a lot of money and space by using a ductless mini split instead of a standard heater/air conditioner configuration. Ductless mini splits are especially energy efficient when compared to more traditional heating systems. This is because they don't have to burn fuel to generate heat. Aside from the advantages that come with all heat pumps, though, there are plenty of unique advantages a ductless system can provide.
Ductless mini splits are more efficient than even other heat pumps, since they don't have to deal with duct leaks. While that may not seem like that big of a deal, the US Department of Energy has estimated that duct leaks account for output losses of up to 30% in centralized systems. That's a lot of money being wasted in centralized systems every time they're turned on, something you don't need to worry about with a ductless mini split.
The added control over your indoor climate is another reason to prefer ductless mini splits over centralized systems. Each air handler is able to operate with a degree of independence, allowing you to set the ideal temperature for each area of the house. This is in contrast to centralized systems, which can only condition all of the home or none of it. The centralized method often creates uncomfortable hot and cold spots throughout the home, while ductless systems make it a lot easier to maintain a comfortable temperature range.
These are just a few of the advantages to using a ductless mini split in your home. If you're still not sure whether or not a ductless mini split would work for you, consult with a professional.
Saddleback Plumbing offers a full range of ductless mini split installation services throughout Ladera Ranch, CA. If you need help selecting a ductless system for your needs, contact us today to schedule an appointment with one of our experts.