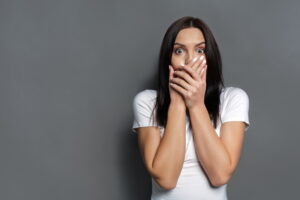 Halloween is just around the corner and with it comes many fun activities. From carving pumpkins to planning Halloween costumes, there's a lot to enjoy during the "spooky season."
But it's also a time of year when slow-bubbling issues caused by the excessive use of your plumbing system over the summer can boil over like the contents of a witch's cauldron. Don't let a plumbing mishap spoil your enjoyment of Halloween. Let's look at four potentially terrifying plumbing problems you could face this fall.
1. Greasy, Grimy Pumpkin Guts
Carving pumpkins is a favorite Halloween activity among the young and old alike. But there's one thing that'll be more frightening than any Jack O'Lantern you could carve and that's putting the pumpkin's innards down your sink or garbage disposal.
Pumpkin guts are 60% starch, and when starchy foods get wet, they expand. And your garbage disposal is not powerful enough to grind down pumpkin seeds. So if you put that giant pile of pumpkin pulp down the sink, it'll grow into a clog of monstrous proportions. Don't let a complete plumbing blockage make for a truly frightening experience after Halloween is over. Put those pumpkin guts in the garbage or the compost.
2. Double, Double, Your Toilet's in Trouble
There's nothing that'll make your Halloween truly hazardous more than a toilet that's draining slowly and about to back up completely. You won't need to visit a haunted house for a truly frightening experience–not when sewage and waste are overflowing onto your bathroom floor.
If you've tried to plunge it with superhuman strength and it hasn't fixed the issue, it's time to have one of our plumbing technicians come save the day. This is a plumbing repair that can't wait, especially if you only have one toilet in your home.
3. The Spine-Tingling Cold Shower
Here's a story that's guaranteed to invoke terror in all who hear it. You're enjoying a wonderfully hot shower on a chilly autumn morning when suddenly, the water turns freezing cold, leaving you chilled to the bone!
Although this sounds like a nightmarish scenario, it could very well be an easy fix. A broken showerhead mixer valve or a mineral buildup either in the showerhead itself or in your water heater are often the cause of chillingly cold showers. Either one is an easy fix for one of our professional plumbing technicians.
4. The Haunted Water Heater
Your water heater has always worked quietly when all of a sudden it starts making some truly terrifying sounds. Screeching, hissing, banging, hammering noises might make it seem like your water heater is haunted.
Never fear, while it may seem like your water heater is haunted, these noises are likely being caused by a mineral buildup. Give our team a call and we'll come and exorcise the demon from your water heater and return it back to peaceful operation.
Call Saddleback Plumbing Heating & Air for Fast and Professional plumbing repair in Irvine, CA. We have served Orange County since 1981.