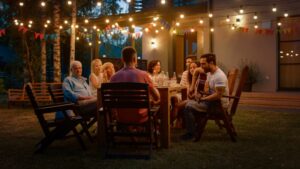 Here in Southern California, we're blessed with amazing weather year-round that allows us to participate in outdoor activities throughout most of the year. But there are summer activities that bring an increased demand on your home's plumbing system.
From hosting family members for extended stays to hiking and camping trips, a broken garbage disposal or a clogged drain can wreak havoc on summer fun. There's nothing worse than having your summer plans interrupted by a major plumbing issue. Let's go over some common summer activities that can lead to Orange County plumbing problems.
Camping, Hiking, and Beach Trips
Summer is a great time for activities that get you out in nature such as camping trips, going to the beach, and hiking in the great outdoors. Unfortunately, a lot of "nature" is brought back into your home in the form of sand, dirt, and mud.
It may seem like a harmless thing to do, but you should never rinse those dirty hiking boots, sandy beach equipment, and muddy camping gear in your home's tub or shower. That's because although those grains of sand and mud seem like they're tiny, they can actually cause big problems.
Your home's plumbing system likely already has some small level of buildup from everyday use. When you add extra sand, mud, and dirt, the existing buildup will attract these particles and potentially lead to a slow drain or a complete clog. Don't use your bathroom to clean up after outdoor activities; be sure to rinse everything off outside.
Summer Celebrations
Summer is the time of year when you grill outside and invite friends and family over for a barbecue or 4th of July party. It can also be the season for eating certain types of foods that you don't consume as often during the rest of the year.
It's important to be vigilant about what's going down your kitchen sink and garbage disposal. Watermelon rinds, corn cobs, cherry pits, potato peels, and bones should go in the garbage, not down the kitchen sink, to avoid damage to your disposal or a major kitchen sink backup.
A Bigger Household
With school out for the summer, family members visiting from out of town, and vacation plans, your home may experience a surge in demand that it's not used to. The sheer increase in the amount of showers, loads of laundry, cooking, and running the dishwasher can be taxing on your home's plumbing system.
Unfortunately, problems that have been brewing might suddenly erupt due to this increased usage. For example, a slow drain in the shower might become a complete backup when there's a sudden increase in the number of people using it. An outdated water heater might not be able to supply enough hot water and your guests might find their showers turning cold halfway through.
Your plumbing system is an essential part of your home. You need it to perform well every day, and when a problem arises, you need it fixed fast. We're the contractor to call for expert professional plumbing services of all kinds.
Contact Saddleback Plumbing Heating & Air for Fast and Professional plumbing services. We have served Orange County since 1981.