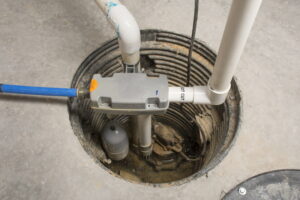 If you know how sump pumps work, then you may have wondered if one would serve any useful purpose for your home. Sump pumps are usually installed in the basement of a house where they help to remove water in case of flooding. But you live in Southern California where 1) you don't have a basement, and 2) major flooding is rarely an issue.
So, do you need to install a sump pump?
Not every home needs a sump pump
We'll be honest with you, sump pumps aren't necessary for many homes in dry Southern California. In most areas where sump pumps play an important role, such as dealing with meltwater in spring and heavy storm seasons, they're already installed in the homes. It's possible that if you've never even thought about a sump pump for your house (or you had to look up what a sump pump even does), you don't need one. 
But even in SoCal, some do!
Our company wouldn't install sump pumps in Orange County if homes here never needed them. In some houses, a sump pump is a vital component that prevents water damage to the lower parts of the house and can significantly extend the life of the home's foundation.
Flooding is rare in Southern California, but harsh weather conditions aren't the only source of water accumulating in the lowest part of your house. In the case of most homes in the region, the lowest part is the crawlspace, as basements are extremely rare. High water tables are one of the sources of water moisture starting to accumulate under a house, and a sump pump is extremely helpful in managing this. By removing this excess moisture, the sump pump stops mold, mildew, and wood rot that can do extensive damage to a home. It also helps control humidity inside the house.
Then there are the flooding problems that can affect homes no matter the location: plumbing disasters. A busted pipe or a broken faucet can send water cascading down into your house. If you're not there to shut off the water at the automatic shut-off valve, your home and possessions can sustain significant water damage. Sump pumps activate automatically—they go to work when water floods into the sump (the water collection pit) and continue to work as long as they have water they need to remove.
We can help
You may already have some idea if a sump pump is right for you. If you've encountered trouble with dampness in your home's crawl space, then we recommend calling us to examine your house and give sump pump recommendations. If you simply feel nervous about a massive plumbing leak flooding your home, we can also advise you regarding sump pump installation.
You do need professionals to install a sump pump. This isn't a DIY job! Our professionals can do the job fast, effectively, and at a far lower cost than if you tried it yourself. We also know the best locations for a sump pump to ensure it will collect the water it needs to.
Saddleback Plumbing Heating & Air has served Orange County since 1981. We offer sump pump installation, repair, and maintenance services—contact us today to learn more.