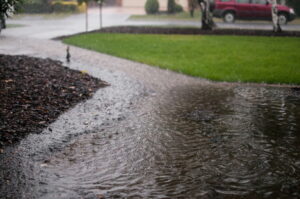 A frequent question we get from Orange County homeowners is, "What is a sump pump and does my home need one?" Although we don't suffer from frequent rainstorms in this part of the country, we have been seeing our fair share of torrential rain. In fact, we recently had a tornado in the forecast that threatened to bring unprecedented rainfall to Southern California.
When heavy rains strike, your home is prone to flooding in its lower levels. Anyone who has had to deal with water damage remediation knows how expensive and difficult it can be to rectify. For these reasons, we recommend sump pump installation to Orange County, CA residents. Learn more about how a sump pump is a simple yet effective device for keeping your home dry during our wettest weather.
What Is a Sump Pump?
The aptly named sump pump is a pump that is installed in a sump (or pit). It's installed in a basement or in the lower level of a home. When there's an infiltration of water due to heavy rain or flooding, the excess water within the sump pit triggers the sump pump to automatically start pumping the excess water out of the area. This helps to prevent serious water damage to property.
Once you've decided your home will benefit from a sump pump and you've had one installed, you need to know the signs that it's experiencing problems. The last thing you want is for your sump pump to not work properly when you need it most. Let's go over some things to watch for.
Signs Your Sump Pump Needs Repair
1. It's running even when it's dry.
It's the middle of September and we haven't had rain in months but your sump pump decides to start running. This is a sign that there's either a clog in the pump or it wasn't installed correctly. If your pump was recently installed, check with the company that installed it. If it was a DIY job, contact a professional ASAP.
2. There are visible cracks or damage.
Inspect your sump pump when there's a forecast for heavy rain. Cracks in the sump pump basin are a cause for concern. Groundwater can seep in through these cracks and cause your pump to run even when it's not supposed to. This adds unnecessary wear and tear to your sump pump.
3. It's draining slower than it should or not at all.
The drain that leads outside can become clogged by mold, mildew, dirt, and debris. It doesn't take much of a buildup to clog a sump pump drain. If it seems like there's no clog, the issue could be caused by the sump pump's motor. One of our plumbing technicians will be able to troubleshoot the issue. If the sump pump isn't draining, it could be caused by a faulty float switch. This part helps alert your sump pump when it should turn on.
Call Saddleback Plumbing Heating & Air for Fast and Professional sump pump services. We have served Orange County since 1981.