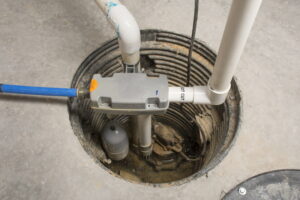 The song goes, "It never rains in California." Well, that certainly hasn't been true this year! We've received some record-breaking rainfall in southern California this winter. Although it doesn't rain here often, when it does rain, it can rain a lot.
When you combine this with the fact that California doesn't have a great system in place for collecting rainwater, it can spell disaster. Areas that have been burned by wildfires are prone to flooding because the soil can't absorb the rainwater. Far too often, the result is flooding in homes' lower levels. When heavy rains strike and your home is prone to flooding in its lower levels, you could have a very serious problem on your hands.
Getting a sump pump in Irvine or wherever your Orange County home is located is a great way to combat this increasing problem of home flooding. While you may not need your sump pump to spring into action that often, when you do need it, you'll be incredibly thankful that it's there. Here's what you should know about sump pumps.
What Is a Sump Pump?
A sump pump is a pump that is installed in a sump, or pit, in which water collects at the lower level of one's home to guard against flooding. When the water within the sump pit reaches a certain level, the sump pump automatically starts up and begins pumping that water out of the house and into the wastewater system.
This helps to prevent serious water damage to your belongings as well as to the structure itself. Sump pumps help guard against flooding from storms and also from leaks in your home such as if a pipe bursts or if you have a slab leak.
How Is a Sump Pump Installed?
There are a few ways in which sump pumps are installed.
Submersible sump pumps are installed in the pit itself under the water line. They're usually hidden entirely out of view since they reside inside the sump tank.
A pedestal sump pump sits on a pedestal. It has a long, exposed pillar that extends above the tank, and the motor is mounted on top of the pillar.
Both types of sump pumps work the same way.
They're both installed at the lowest point of the home or within a crawl space underneath the house.
A system of drain tiles carries excess standing water to the sump tank (also known as the sump pit).
Once the tank reaches a certain water level, an automatic switch turns the sump pump on.
Then it begins moving the water from the tank and out of the house via a pipe or hose.
The automatic switch means you don't have to be home for the sump pump to start doing its job!
The Bottom Line
Sump pumps help protect your home by removing the possibility of significant water damage due to storm runoff or other moderate flooding factors. It won't be able to protect against severe flooding, but if you've had to pay for water damage remediation, you know how much the damage from even a small leak can cost to fix.
Call Saddleback Plumbing Heating & Air for Fast and Professional sump pump installation. We have served Orange County since 1981.