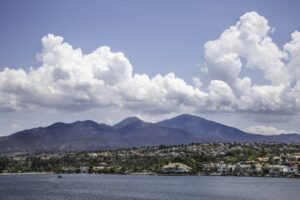 Southern California is prime earthquake country. On a daily basis, small earthquakes occur multiple times throughout our area. Experts predict that "the big one" is due. Although it can't be predicted when and where earthquakes will occur, there are some things you can do to prepare your home in the event of an earthquake. One of these is getting an emergency earthquake shutoff valve installed in your home.
Most homes here rely on natural gas for gas-burning appliances such as a heater, furnace, or oven. Even a minor earthquake has the potential to damage gas lines which could result in natural gas leaking into your home after an earthquake occurs.
Installing emergency shutoff valves is something a professional plumbing company can take care of for you to put your mind at ease. There's no need to search for "plumber in Orange County." You can't go wrong with one of our professional plumbing technicians! Keep reading to learn about how an earthquake emergency shutoff valve can help protect your home after an earthquake.
How Is an Emergency Shutoff Valve Different From a Manual Shutoff Valve?
All homes with natural gas have a manual shutoff valve that can turn off the gas coming into your home during an emergency. However, many homeowners don't know where the gas shutoff valve is located or how to turn it off. It's a good idea to familiarize yourself with where yours is located.
But even if you know how to turn off the gas, as we mentioned earlier, earthquakes are unpredictable. You might not be home during an earthquake that's big enough to need the gas turned off. This is where an earthquake emergency shutoff valve comes in handy.
An Emergency Shutoff Valve Turns Your Gas Off Automatically
The genius of an earthquake shutoff valve lies in its ability to detect a quake and turn off your gas. It monitors signs of an earthquake in your home's vicinity. If one occurs that's large enough to trigger the sensor, the valve will automatically activate and turn off all gas flow into the home. This ensures that, no matter what's going on, a gas leak won't be one of the things threatening your home in the event of an earthquake.
Used together with excess valves to detect gas leaks, an earthquake valve doesn't have to detect a leak in order to turn the gas off. It monitors seismic activity, not gas leaks, and turns off the gas as a preventative measure. Natural gas pipes are thin and are easily susceptible to damage from earthquakes and even things like settling. Even a minor earthquake can disrupt the foundation of your home and potentially damage your water and gas pipes.
It's essential that dangerous, flammable substances like natural gas be immediately cut off. According to the Earthquake Country Alliance, about one in four fires after an earthquake is related to natural gas leaks. A shutoff valve helps ensure that with all the things that can damage your home because of an earthquake, a fire caused by a natural gas leak won't be one of them.
Contact Saddleback Plumbing Heating & Air for fast, professional earthquake shutoff valve installation. We have served Orange County since 1981.