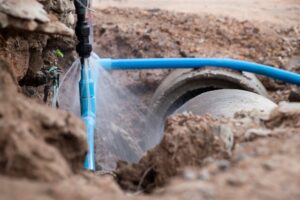 Without a water main, you don't have a working plumbing system. Plumbing requires water, after all. If the water main to your house becomes damaged because of age, corrosion, tree roots, earthquakes, construction, or clogs, you may soon have no freshwater in your house at all. Not a good time!
Handling repairs for a home's water main is a major job for your plumbing in Irvine, CA, but you can relax when you know you've got a team like the one at Saddleback ready to help you. We offer fast and effective repair service for water mains and sewer lines. To help you know when to call us for assistance, look over this list of signs of a water main in jeopardy.
#1 – A steep rise in water usage
Any leaks in the freshwater pipes in your home will create an increase in water use you'll see reflected on your monthly bills. Now imagine how much water waste can come from the water main if it starts to leak. Yes, it's steep! We stress with our customers the importance of paying attention to unexpected increases in water use because they point toward immediate problems. The bigger the increase, the more likely it's a damaged main at fault.
#2 – A decrease in water pressure
We've previously discussed low water pressure in homes and the different sources for the problem. If you can't find a simple cause of a water pressure drop (such as a municipal problem or a stuck shut-off valve), the trouble may come from a water main that's either leaking or has developed clogs from tree roots, corrosion, or other blockages.
#3 – Turbidity in the water
Turbidity is our fancy way of saying you have cloudy water. If you look at water in a glass and it isn't clear, it is a warning that something is getting into the water supply—and the water main is a prime suspect. We recommend you have the water tested and then the water main checked to see if this is the cause of the problem. Even if it isn't the water main, you'll want the cloudiness dealt with.
#4 – Damp spots and water pooling on your property
When a water main starts to leak, it will lead to pools of water and damp patches on your lawn, garden, etc. You may also see water seeping up through walkways and other hard surfaces on the property. If you notice these signs, the damage to the water main may already be inflicting other damage to your property that you can't see—so call for help as soon as you can.
#5 – Noisy plumbing
Sounds like banging and gurgling coming from the plumbing are not normal. A broken water main is one possible source for these strange noises. When you call our professionals, they'll look into the issues and find out what trouble in your plumbing is responsible.
You can trust our team for all your plumbing concerns. We deliver high quality on every job.
Saddleback Plumbing Heating & Air has served Orange County since 1981. Schedule service for your water heater with our pros.