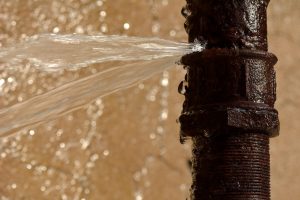 Water leaks are an insidious problem in homes throughout the country. Many residential plumbing systems have leaking pipes that stay hidden for weeks, months, even years, slowly causing building damage and wasting immense amounts of water. We recommend our customers schedule occasional leak detection for their homes to find out if they have hidden leaks. Once we've located the problem, we can easily use plumbing repairs in Orange County to solve the problem.
But how do these leaks start in the first place? There is no single cause of hidden pipe leaks, which is why almost any home can run into this problem. We've listed several of the most common causes of a leaky home plumbing system. This knowledge can help you know what to watch out for and problems you can avoid.
Corrosion
Corrosion is the biggest enemy of metal pipes, and it's almost impossible to avoid in steel and iron pipes when as age. This is why we recommend homeowners have repiping done if their home was built pre-1970 and hasn't had any major updates. However, corrosion can also affect newer copper pipes because of chemicals in the water and high pH and mineral levels.
Poor pipe installation
When hiring a professional to handle pipe installation, you can expect to get quality work that helps the pipes last for decades. However, your home may have started out with inferior or even amateur plumbing installations and you won't be aware of it … until it leads to serious leaks. A bad pipe installation can have shoddy connectors and poor designs that make it easy for leaking to start.
Earthquakes
Underground movement, such as shifting soil, can put pressure on pipes that create leaks. Here in Southern California, our main underground movement concern comes from earthquakes. It doesn't take a major temblor to cause this damage, either. Small quakes can cause enough shifting in the ground to damage pipes.
High water pressure
When the water pressure in household plumbing is higher than 80 psi, it creates a much higher risk of creating leaks. The pressure can cause pipes to burst and leaks to form at connectors and soldering. If your home has high water pressure, we recommend having a pressure arrestor installed for your plumbing to get the pressure under control and prevent leaks and general wear on the pipes.
Tree root infiltration
This is a problem that affects outdoor pipes: the water main and the sewer line. Tree roots move naturally toward sources of nutrients and water. If trees are planted close enough to the underground pipes, the roots will move directly toward them and create enough pressure to cause breaks and leaks.
Broken seals
The rubber sealant inside pipes connections to water-using appliances will often degrade long before the pipe does. This is a leading cause of water leaking from dishwashers and laundry machines.
No matter what's causing leaking in your house, you can trust our expert team to get to the bottom of the trouble and have your house made watertight!
Saddleback Plumbing Heating & Air has served Orange County since 1981. Call us for any plumbing service you may need.