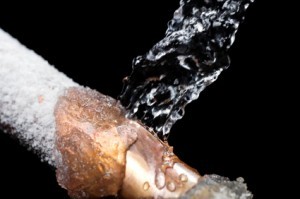 Plumbing problems are never fun to deal with, but some are quite a bit worse than others. A leaky faucet, for example, might be annoying but not urgent. A ruptured pipe rapidly turning your second floor into a marsh, on the other hand, is something that requires a bit quicker of a response. It's relatively easy to contact a plumbing contractor if a plumbing emergency occurs during normal business hours. What do you do if it happens in the middle of the night, though? Read on to find out.
Step One: Turn Off The Water Supply
The worst thing that most plumbing problems can do to your home is inflict large amounts of water damage. If you've ever had to pay for water damage remediation, you know how expensive it can be to recover from such a thing. So, the first thing you should do during a plumbing emergency is to make sure that you limit the water damage that can be done to the surrounding area as much as possible.
It's a good idea to know ahead of time where the shutoff valve for your home is, so that you can reach it as quickly as possible if you need to. It also might be a good idea to install an automatic shutoff valve, which will automatically cut off the water supply if it detects a major leak or rupture.
Step Two: Clean Up The Area
Chances are, whatever problem forced you to shut off your water supply has already inflicted at least a little bit of water damage to the area around it. Once you've prevented further damage by shutting off the water supply, you should be sure to clean up the surrounding area as best you can. This both limits the damage, and makes it easier to access the problem itself. It may seem like a minor thing, and it is. Every little bit helps in a situation like this, though, and you'll need to rely on a professional plumber to provide the lion's share of the repairs, anyway.
Call for Emergency Repair Services
It's important to remember that not all contractors provide emergency plumbing services. Most keep the same general business hours as any other contractor, which means that if you have a pipe spring a large leak at 3am, you're out of luck. Unless, of course, you find a contractor that will show up to deal with your plumbing issues no matter when they come up. There are likely at least a couple of contractors in your area that provide emergency 24/7 plumbing repair services. You should find one, and have them resolve the issue for you as soon as possible. Plumbing issues don't wait for convenient times to occur, and you shouldn't have to wait before getting them fixed.
Saddleback Plumbing offers comprehensive emergency plumbing services in San Juan Capistrano, CA. Contact us today to schedule an appointment with one of our expert plumbers. We'll make sure that your plumbing system is restored to working order as soon as possible.