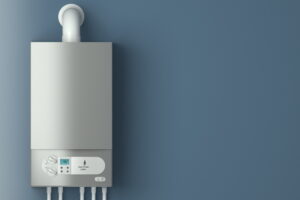 Just to be clear about the title: you don't want to do the actual tankless water heater installation yourself. This type of work requires professionals. In this post, we're looking at what to expect when you choose to have us install a tankless water heater for you.
Now that's out of the way … great news to hear you want to get a tankless water heater! More and more homeowners are making the decision to have their old storage tank water heaters replaced with tankless "on-demand" water heaters. There are a few things you can expect and maybe one of two things to consider. Let's jump into it below.
A tankless water heater might not be right for you
"Wait a minute! You just said it was great news to get a tankless water heater and now you're trying to talk me out of it?"
No, we're not trying to talk you out of installing a tankless water heater. But we want you to know that not every home receives the same benefits from going tankless. In some cases, a standard water heater is a more cost-effective replacement. Tankless water heaters can have trouble with large households where multiple hot-water taps are on at once. They also are more expensive than storage tank water heaters, although the energy-savings can often make up the difference. Always consult professionals first before making a hard choice about what type of water heater you'll have installed.
You'll probably save money on heating costs
No water heater model can guarantee money savings, but tankless water heaters have the potential to significantly reduce your annual heating costs. Tankless units only consume energy when there is demand for hot water, unlike storage tank water heaters that use energy to replace standby heat loss even when nobody needs hot water.
You're going to enjoy (almost) unlimited hot water
If you've worried before about being the last person in the shower in the morning and getting lukewarm water, we've got good news: tankless water heaters don't run out of hot water because they are always heating up more as needed. However, if too many hot water taps come on at the same time, it can affect the water heater's efficiency. And we encourage water-conservation, so don't stay in the shower too long just because you can.
You'll get some extra space in the garage (or closet)
Where is your current water heater located? More good news, you're about to get additional space there! Tankless water heaters are smaller than water heaters that need massive tanks to store their heated water supply. In fact, tankless units can often hang on a wall, freeing up some floor space as well.
You won't need another water heater for a long time
The standard storage tank water heater can last from 10 to 15 years before it's time for a new one. A tankless water heater can last for more than 20 years thanks to its lower energy consumption and reduced workload. You can relax knowing you've probably got two decades' worth of great performance from your new water heater before you'll need to consider a replacement.
Saddleback Plumbing Heating & Air has served Orange County since 1981. Schedule water heater installation services with us today.