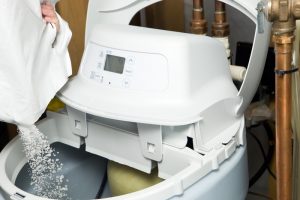 Hard water is common throughout Southern California, and Orange County is no exception. The hardness of our water averages about 300 per million or 18 grains per gallon. What does that mean? That's already 10% of the recommended calcium for your daily diet contained within one glass of water. Sounds great if you're looking to increase your calcium intake—but all that calcium and other minerals, like magnesium, are not good for your household plumbing or for your house.
This is why water softeners in Orange County, CA are often in demand, and why we install them. To help convince you to act to reduce the hardness of your home's water, we've listed below how hard water creates household trouble.
Damage to piping
The hard water minerals moving through the freshwater pipes of your house won't always stay dissolved. They gradually turn into limescale along the walls of the pipes. This makes it much easier for stoppages to appear, and it also increases water pressure as it reduces the volume inside the pipes. Hard water deposits can also lead to corrosion and the need to repipe parts of the house years early.
Harm to the water heater
Any water-using appliance in your house can suffer because of hard water, but your water heater is at the highest risk. The heat inside the water heater's tank causes the minerals to turn into scale that forms along the inside of the tank walls. Because scale is an insulator, it traps heat inside the tank and will cause the water heater to overheat and spike pressure inside it. In only a few years, hard water can effectively ruin a water heater. (And tankless systems aren't immune: their intakes will rapidly become clogged due to mineral deposits.)
Ruined laundry
Have you noticed your whites are not white enough? Colors not bright enough? No, we're not doing a laundry soap commercial. We're warning you about what hard water does to your laundry. It stains light material and leeches away colors from brighter material. It also makes cloth feel coarse because of soap deposits that don't dissolve well because of hard water.
Filmy glass and other surfaces
Hard water is not an effective tool for cleaning. For one thing, it's difficult to create a lather of soap with hard water. It also leaves a soapy deposit on surfaces, most notably on glass and porcelain. You'll probably notice this first on glass shower doors. It's bad news for the dishwasher as well—you'll have cloudy glassware and soapy film on most objects run through the wash.
Because hard water comes straight from the municipal system (picking up minerals through ground seepage), you must have your own water softener to counteract it. A water softener swaps the hard water minerals for sodium, creating a natural softening of the water. Our water quality experts can find the right water softener to meet your needs and spare your house from the ravages of hard water.
Saddleback Plumbing Heating & Air has proudly served Orange County since 1981. Call us to schedule water treatment system services, such as a water softener installation.