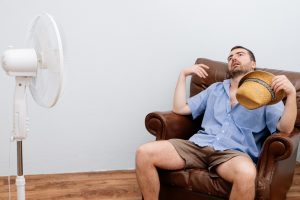 We just passed through the first serious heatwave of the year in Southern California, with temperatures in some areas hitting 100°F. This week will be cooler, but we're all going to be on our toes now for more heat spikes—and putting our air conditioners to work regularly to make indoor life manageable.
If you have worries about your air conditioner malfunctioning and failing during the approaching heat, you are not alone. People are more concerned than ever about ensuring they have a comfortable household. Even the best care and the finest air conditioning system cannot ensure a problem-free summer. If you're faced with a busted AC, we have some helpful tips. (An important reminder: before it gets any hotter, schedule air conditioning maintenance with our technicians—the best way to keep an AC in robust shape all summer.)
Avoid any type of DIY solution to a broken AC
Unless you discover the air conditioner stopped working because of something simple like a tripped circuit breaker (which can happen when the AC runs often), don't attempt to fix the problem on your own. This includes any kind of home "remedy" from seeing if you can refill the refrigerant yourself or simply whacking the outside of the AC with a hammer to "jump start it." You won't be able to fix any problems this way, and you may make the situation worse.
Don't hire the first HVAC contractor you can find available
In the rush to find air conditioning repair in San Juan Capistrano, CA, you might get hasty and hire a non-licensed "technician" who will further jeopardize the situation with shoddy work, late arrivals, and the lack of insurance. Even some licensed HVAC technicians aren't trustworthy. Call our team: we have a long history of dependability and quality service and back our work with a 100% satisfaction guarantee.
Keep the windows and doors closed
Once you've got the AC repair technicians on the way to you, you'll still have to buckle down and make it through the heat. To help keep the temperatures under control in your home, close all the windows and doors and pull curtains and close shutters. It's tempting to open up the house to get in a breeze, but this will just let more heat invade your house.
Spend some time outdoors
You can't partake in many normal outdoor activities at this time, but you can still go for a walk or set up a few folding chairs on the lawn and drink ice water. This is a much better way to stay cool than opening up the house!
Turn off heat-producing appliances
If you are indoors, shut off all appliances that give off heat. Lights are a major one, but you should also refrain from using most kitchen appliances and don't do any cooking. There is no reason to add more heat to the house if you don't have to.
We're doing everything we can to keep home's comfortable during this time. You can rely on us for the help you need with your air conditioning system.
Saddleback Plumbing Heating & Air has served Orange County since 1981. Call us for AC repairs when you want the work done right.