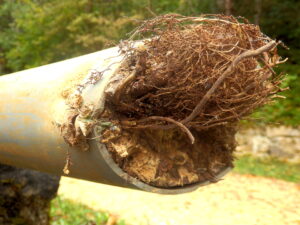 Has your home needed sewer line repairs or have you been told your sewer lines are blocked or broken due to shifting soil, settling, or damaged pipes? Trenchless pipe replacement is one of the best tools plumbers have to repair or replace a sewer line.
Although trenchless technology isn't new, it's becoming a popular option among homeowners who want a less invasive—and less expensive—method of sewer pipe repair and replacement.
Traditional methods of sewer repair are costly, and when you add to that the extra expense of fixing the landscaping it destroys in the process, trenchless pipe replacement makes a lot of sense for a lot of homeowners.
What Is Trenchless Technology?
As you might've guessed, the aptly named trenchless technology doesn't require the digging of a trench. Instead, two small pits are dug at either end of the pipe section that is due for replacement. A motor then pushes a breaker head through one end of the pipe.
Depending on the job that needs to be done, the breaker head is outfitted appropriately based on the material the old sewer pipe is made of. It can break up the old pipe and move it out of the way, or it can push the old pipe out into the pit on the other end.
As the breaker head moves, the old pipe is removed and the new pipe is installed simultaneously. Once the new pipe is connected, the two pits that were dug are filled back in with minimal damage to your property and landscaping.
Types of Trenchless Sewer Line Repair and Replacement
There are three types of trenchless pipe repair and replacement: directional drilling, pipe bursting, and trenchless pipe lining.
Directional Drilling
Directional drilling involves digging a new tunnel for the sewer pipe. It uses a horizontal drilling machine that bores into the ground to a certain depth. Then it drills horizontally along the length of the pipe that needs replacement. Directional drilling is the best choice for extremely difficult repairs and replacements that could be expensive to fix.
Pipe Bursting
This method literally bursts pipes by breaking apart the old sewer line. Two access holes are dug and the new pipe "bursts" the old one as it is pulled through and simultaneously put into place.
Pipe Lining
Pipe lining involves lining the existing pipe with epoxy resin. It requires one access hole so the amount of digging is much less than with other methods. A flexible tube that is coated with epoxy resin is inflated within the damaged pipe and left to cure for 4 to 24 hours. This method is also referred to as cured-in-place-pipe or CIPP.
If you are looking to replace the sewer line in your home but do not want to damage the landscape, consider trenchless sewer line replacement. We're an excellent resource to answer all your questions about trenchless pipe replacement, so don't hesitate to give us a call!
Call Saddleback Plumbing Heating & Air for Fast and Professional trenchless pipe replacement. We have served Orange County since 1981.