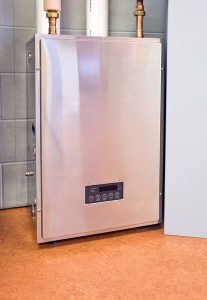 Tankless water heaters have a long history stretching back to the late 19th century. It wasn't until relatively recently, however, that they became feasible options for homes. More and more tankless water heaters are installed in homes each year as people discover the big benefits that come with them.
But tankless water heaters are not universal in homes because they do have several drawbacks. We think tankless water heaters are great options to consider, but you'll need professionals to help you decide if you'll get the most benefits out of installing one. We'll go over some of the basic upsides and downsides of tankless water heaters to help you get started thinking about a new water heater installation.
The Upsides
Energy-saving: Because tankless water heaters only heat up water "on demand" (whenever a tap comes on requesting hot water), they do not run as often as standard storage tank water heaters and consume far less energy over their service lives. The savings can be significant.
Unlimited hot water: One of the biggest downsides of standard water heaters is that they can run out of their hot water supply. This isn't an issue with tankless systems, because they don't store any water at all, but heat up water as long as it's needed. It is possible for a tankless system to be overwhelmed when multiple taps are on at once, which makes them more suitable for smaller households.
Longevity: A tankless water heater can last from 20 to 25 years, compared to 10 to 15 for a standard water heater. This is because tankless water heaters don't run as often and don't suffer from the stress of storing water.
Small size: Interested in saving some space in the garage? A tankless water heater is tiny compared to a storage tank water heater. It can be mounted on the wall!
The Downsides
Price: A tankless water heater is more expensive to purchase upfront than a conventional water heater. Although the energy savings will offset this over time, the cost may not fit in with a consumer's current budget plans.
Longer wait for hot water: There is a lag time between turning on a hot water tap and receiving the hot water from the water heater. It's not long, but it is longer, and this can contribute to more water waste while you wait for the hot water to arrive.
May require plumbing changes: A plumbing system may need additional work to be able to handle a tankless system. We strongly recommend homeowners install a filtration system (if they don't already have one) or a water softener if the house has hard water, otherwise the tankless system may soon stop working.
You'll probably have many questions about tankless water heater installation in Orange County, CA, and our team can answer them. As we said, we think tankless water heaters can be great for homes, but we also know every home and situation is different. You can trust that we'll look out for your needs and have the right water heater installed for your house.
Saddleback Plumbing Heating & Air has served Orange County since 1981. Call us today for water heater installation service.