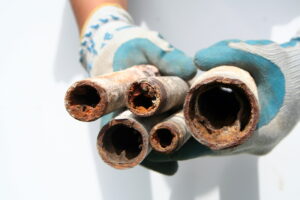 The age of your home is a good way to tell if you have pipe material that is out of date. The plumbing in Orange County is generally younger than you would find in, say, New England, where many people live in homes originally built in the early 20th century or even the late 19th. We don't have homes of that vintage in the OC, but there are many houses old enough to have plumbing made from outdated material. The older the pipes, the more repairs they will likely need and the higher chance your house will benefit from whole-house repiping.
To get to the specifics in the title, how long you can expect your pipes to last depends on the pipe material. We'll go over the most common ones and which you can expect to have in your house based on the building's age:
Copper
If your house was constructed after 1970, it probably has copper as the only metal pipes. You can expect a long life from copper pipes because copper is corrosion-resistant: 70 to 80 years is normal. That age range will drop due to water quality issues, however, so when you have copper pipe repairs, ask our team about the general wear and tear on the piping.
Modern Plastic Pipes (PVC, CPVC, PEX)
Plastic pipes are more durable than people expect. CPVC (chlorinated polyvinyl chloride) can last more than 70 years, and PEX (cross-linked polyethylene) can also reach a similar age. Older PVC pipes have shorter lifespans, around 45 years. If your house was built after 1970, you probably won't have serious issues with these plastic pipes.
Polybutylene
Now here's a type of plastic pipe you can have trouble with. Polybutylene was a cheaper plastic pipe alternative from the 1970s to the '90s, so your house may have this pipe in it if it was constructed during then. Polybutylene is no longer used in plumbing for good reason: it only has a life expectancy of 10–15 years. We strongly recommend having any polybutylene pipes in your home replaced.
Galvanized Steel
Galvanized steel (steel with a zinc coating) was the main piping material for homes and commercial buildings before the end of the 1960s and was still used into the early '70s. Steel is durable—but it's also in danger of corrosion that can lead to it lasting less than 50 years. You probably have steel pipes in your house if it was built before 1970.
Cast Iron
Also commonly used before the 1960s, cast iron suffers from the same problem as galvanized steel: corrosion can lead to it deteriorating after less than 50 years.
Lead
You don't want lead pipes in your house at all, even though they can last around a hundred years. Lead pipes allow toxic chemicals into the water supply. Lead piping was banned from use in homes in the US in 1986. If your home was built before this, you may wish to have experts inspect the plumbing to find if there is any lead.
Saddleback Plumbing Heating & Air has served Orange County since 1981. Find out more about repiping and the many other plumbing services we offer.