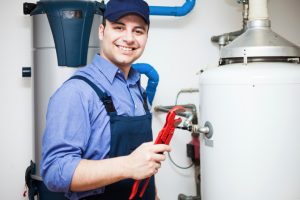 It can be difficult to keep a plumbing system in top condition for a long period of time. Most of the system is out of sight, and therefore out of mind. People tend not to think about their plumbing at all until it stops working for whatever reason. Still, we recommend making sure that your plumbing system stays healthy as best you can. You'll save more money on repairs in the long run, and you won't have to worry so much about things like water damage or not being able to take a shower. Follow the tips below to make sure that your plumbing system keeps serving you well for many years to come.
Schedule Plumbing Inspections and Maintenance
A lot of the plumbing issues that you're likely to deal with over the years are subtle things. They develop slowly, and only give off noticeable symptoms when they develop far enough to start causing some nasty damage. Obviously, you don't want to wait until then to call for repairs. Unless you want to pay a lot more to fix the damage that's already been done, we suppose. The best thing to do is to catch plumbing issues before they get that far, and the best way to do that is with maintenance.
Annual plumbing inspection and maintenance appointments provide your plumber with the chance to locate and fix issues that may have otherwise snuck in under the radar. This will improve the health and efficiency of your plumbing system, and will likely also improve its lifespan by a few years. You should be scheduling maintenance for your plumbing at least once every two years or so, depending on your individual circumstances.
Know When to Call for Repairs
Plumbing maintenance lowers the odds of problems developing to a significant degree, but it doesn't eliminate them entirely. You still need to keep an eye out for signs that your plumbing system is struggling in some way, and call for repairs as soon as you do. There are a number of common indications that a plumbing system is not working properly, including:
Obvious water damage/mold rings
Leaks
Dropping water pressure
Running water meter, even when plumbing isn't being used
Unusually high water bills
Water hammer (loud banging when a faucet is suddenly turned off)
Discoloration in the water coming from the system
If you see any of the above signs in your system, or it's doing anything else suspicious, you should call a professional to come check it out as soon as you can. You'll still probably have to pay to repair some damage, but at least with a quick response it won't be as bad as it could be. Sometimes, that's the best you can hope for.
If you follow the above tips, your plumbing system will be much better off in the long run than if you just ignored it and hoped for the best. Make sure that you keep on top of maintenance and repairs to get the best possible return on investment for your system. You won't regret it.
Saddleback Plumbing offers full plumbing services in San Juan Capistrano, CA. If your plumbing system is in trouble, contact us today and we'll take care of it for you.