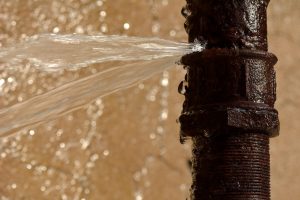 Plumbing leaks are among the more problematic issues that can affect your home. They can cause a lot of water damage, reduce the efficiency of your plumbing system, and generally cost more to repair than what their small size would indicate. The best thing you can do to mitigate the effects of plumbing leaks on your home is to schedule preventive plumbing maintenance at least once every year or two. This ensures that any plumbing leaks are found and dealt with before they can cause too much damage. Between plumbing appointments, though, you should still remain vigilant for signs that your plumbing system has leaks in it. If you call for repairs quickly enough, you should still be able to prevent a lot of damage to the system.
Check Your Water Meter
One of the easier ways to see if there are any plumbing leaks in your home is to turn off all the plumbing systems in the house, and then check the water meter. If the meter isn't running, then you either don't have any leaks in your system or they're too small to register. If the meter is still running, then water is still leaving the system. You should probably call for a professional to examine the system in that case.
Keep an Eye on Your Water Bills
You should be watching your water bills each month to make sure that they accurately reflect how much water you're using. If the bills suddenly start to rise from month to month, it could mean that you have a leak in your plumbing. Only a professional pipe inspection will be able to confirm that for certain, though.
Beware of Falling Water Pressure
Falling water pressure in a plumbing system typically means one of two things: either there's a leak in the plumbing, or there's a blockage forming. If a leak in your plumbing is large enough to cause falling water pressure, you need to react to it immediately before it can cause widespread water damage. We recommend turning off your water entirely and calling for emergency plumbing services.
If You See Water Damage, Don't Ignore It
Water damage is the last way you want to find out about a leak in your plumbing system. Unfortunately, it's often the first sign that a lot of homeowners notice. This is especially true with pinhole leaks, which are too small to be noticed any other way aside from during a professional inspection. As such, they often spend months causing water damage to the surrounding area before being dealt with. Make sure that you have visible water damage dealt with as soon as possible. Any leak able to do enough damage that you can see it is bound to get worse if it isn't taken care of.
Saddleback Plumbing provides comprehensive plumbing repair services. If you need a professional plumber in Irvine, CA, we can help you out. Contact us today to schedule an appointment, and we'll get started on restoring your plumbing system to proper health.