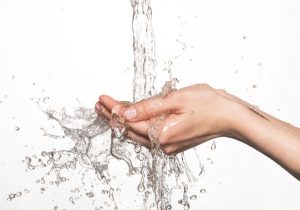 One of the most common questions we get in Orange County is: "Is my water safe to drink?" Things such as black specks in water, hard water, or water that simply doesn't taste good are cause for concern among many homeowners.
If you're concerned about the quality of your water, you can rely on our plumbing technicians to determine if there is cause for concern. We can test your water and then, based on our findings, recommend a whole house system that'll ensure your family is drinking the very best water possible.
Let's go over some of the systems we install and their benefits.
Water Filtration Systems
Whole house water filtration systems are different from the kinds of filters you can buy at a home improvement store and install on your home's faucets. Whole house filtrations systems eliminate hard water mineral deposits and can also clean out bacteria, dust, and other contaminants that no one wants in their water. 
Water filtration systems help eliminate those unsightly hard water deposits that get left on your countertops, around your water fixtures, and on shower doors and bathtubs. By softening your home's water, it'll help laundry detergent fully dissolve, which will help your clothes look cleaner and last longer. 
Reverse Osmosis Systems
You may have purchased bottled water that states it uses reverse osmosis. Reverse osmosis systems use a semi-permeable membrane that your water passes through. Although the process is fairly complicated, all you really need to know is that the end result is pure, clean water that flows into your plumbing and pipes.
As a result, the drinking water from your faucets will taste as good as bottled water from the store. The food you cook at home will even taste better. If you use a water service or purchase filtered, bottled water, getting a reverse osmosis system installed will pay for itself over time. You'll also reap the benefits that come from eliminating hard water in your home.
Water Softening Systems
Water softeners have one goal: to remove minerals such as magnesium and calcium from your water. These mineral deposits are what leave unsightly hard water stains all over your home. You'll also notice an immediate improvement in the taste of your home's water. It'll taste clean and fresh once the hard minerals are removed. Because soap doesn't dissolve entirely in hard water, your clothes and dishes will be cleaner. You might even feel that your skin is less dry after showering.
The Bottom Line
The water supplied by the municipality in Orange County is not always perfectly clean. Although it shouldn't contain bacteria or contaminants that can make you sick, there are other substances in your water that can make it taste bad, leave black specks behind, and could potentially damage your plumbing fixtures.
Our Orange County plumbing technicians offer water treatment services that'll give you peace of mind about the quality of your water. Better yet, we offer a 100% satisfaction guarantee on all water treatment installations.
Contact Saddleback Plumbing Heating & Air for Fast and Professional water treatment services. We have served Orange County since 1981.