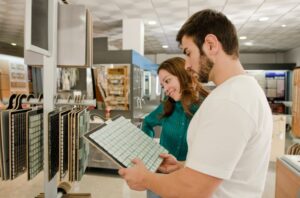 So you've decided it's time to remodel that outdated bathroom in your home. The planning stage is an exciting one as you start looking at fixtures, flooring, and tiles. You might have had a reality check or two as you realize that you do have a budget that you're trying to adhere to.
It's important to take longevity into consideration. After all, some poor choices from the past are possibly what has led to the need for a bathroom remodel in the first place. You'll need to plan the entire project well to make sure you're getting the maximum return on your investment, not just in expense but in ensuring that your new bathroom will meet your needs for years to come.
In order to get the most out of your bathroom remodel, ask yourself these important questions before starting your project.
What's the purpose of the remodel?
The impetus for bathroom remodels isn't always aesthetics. Many homeowners embark on bathroom remodels because the original design of their bathrooms isn't meeting their needs anymore.
Some homeowners want to make the switch from a bathtub to a walk-in shower that'll accommodate elderly or disabled family members. Some families plan to expand and will need to make changes that'll better serve their growing households.
Perhaps the desire to have a more eco-friendly bathroom has prompted your remodeling plans. Here in Southern California, drought is a concern. Many homeowners want to upgrade their toilets and fixtures to waste less water and save money on their water bills.
Whether you're redesigning for functionality, aesthetics, the environment, or all three, it'll help to be clear from the very start about what you want to achieve on this project. Whatever the main objectives are, identify them early on so you can focus on achieving them.
What are my long-term plans for my home?
It's easy to focus on the short-term goals for your bathroom remodeling project. But what about the long-term goals for your home? Are you planning to sell your home in the next several years? Or do you plan to live out the rest of your days there? Will that trendy tile design you have your heart set on still be as pleasing in a decade? Keep the long-term plans for your home in mind along with the short-term goals to really maximize your investment. 
How much can I afford to spend?
Having a budget—and sticking to it—is a crucial step in the remodeling process. Everyone has heard a horror story of a home renovation that quickly got out of hand. Don't let your bathroom remodel be another horror story. Get several quotes, do your research, or better yet, talk to a contractor to get an estimate. 
Whatever your goals are for your bathroom remodel, you need a professional company that can do the job right. We provide expert plumbing services for all sizes and shapes of bathrooms to ensure that its new fixtures are properly installed from the start. If you're looking for a plumber in Irvine who'll help you achieve the bathroom of your dreams, you can't go wrong with our team of amazing plumbers in Irvine. 
Call Saddleback Plumbing Heating & Air for Fast and Professional plumbing services. We have served Orange County since 1981.