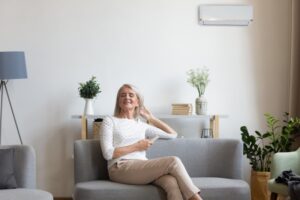 Are you faced with another costly air conditioner repair in Orange County CA? Perhaps it's time to start researching options for replacing that outdated system.
Although no one looks forward to the day their AC needs to be replaced, the good news is that there's been a lot of advancements in HVAC technology. The systems of today aren't nearly the same as those from 10–15 years ago. 
Not only are today's central air conditioning systems much more energy efficient, but you also have other choices for cooling your home. Let's look at heat pumps, central ACs, and ductless systems. That way, you'll be an informed consumer when it's time to decide.
Heat Pumps
Heat pumps are surging in popularity and for good reason. Heat pumps provide both heating and cooling to a home in a compact, efficient system. They use electricity and refrigerant to move heat in and out of a home and don't use any fossil fuels, making them an eco-friendly alternative to centralized heating and cooling systems.
Just like with air conditioners, heat pumps have different levels of efficiency with the more efficient models costing more upfront. There are other components that can increase efficiency such as the compressor.
A standard compressor operates at full capacity only. But a two-speed compressor allows a heat pump to operate at different capacities. Not only does this reduce the wear and tear on the compressor, but it also saves energy, resulting in even more efficiency. As another bonus, it creates more even cooling and heating with fewer temperature fluctuations.
Finally, heat pumps are ideally suited for climates with mild winters, just like ours here in Southern California!
Central Air Conditioning
Central ACs are tried-and-true methods of cooling a home. The efficiency of air conditioners is now rated by SEER2 ratings. The more energy efficient an AC is, the more costly it'll be to purchase upfront. But you'll reap the benefits of low utility bills for as long as you own the system. Just like with heat pumps, you can also choose different compressors to increase efficiency and comfort.
Ductless Mini Splits
Ductless mini split systems are a popular option in the ductless heat pump category. The ability to customize the cooling of your home is what makes these so popular. 
Ductless mini splits use a single outdoor unit and multiple air handlers that are mounted on either the walls or ceilings of your home. Each air handler works independently of the others. That means with the adjustment of a remote control for each unit, you can choose to cool or heat a single room.
This option is ideal for homes with household members who work from home or who are stay-at-home parents. You can cold down one or two rooms without needing to cool down the entire home. This results in great energy savings and efficiency.
Contact Saddleback Plumbing Heating & Air for Fast and Professional air conditioning services. We have served Orange County since 1981.