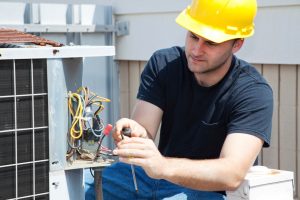 With the summer heat beating down on a daily basis, many of us are relying on our air conditioners to keep cool. Using your air conditioner for multiple hours a day is does more than just increase your monthly bills, though. It also increases the rate at which your system wears down. That added wear and tear makes it more likely for various problems with the system to occur. The last thing you want in the middle of a heat wave is for your air conditioner to break down. So, you should familiarize yourself with the common warning signs that your AC is in need of repairs.
Dropping Output
Dropping output is never a good sign when it comes to HVAC systems. If your air conditioner is not putting out as much cold air as it should be, there are a number of possible reasons why. If the system isn't circulating much air at all, you could have a clogged air filter. If the filter isn't changed at least once every three months or so, it can become clogged and block the air flow. If the drop in output is also accompanied by a grinding sound, you may have a problem with the air handler.
The air handler is the part of the system responsible for circulating air throughout the home during operation. If it starts to have issues, it can struggle to circulate enough air to effectively cool the home. It's also possible that you have a leak in the refrigerant line, which is depriving the system of the fluid it needs to actually vent heat out of the home. If the system is still blowing the same amount of air, but it isn't as cool as it should be, that might be the cause. Regardless of the reason, you should call for repairs as soon as you notice this symptom.
Inexplicably Rising Monthly Bills
Your monthly air conditioning costs are naturally going to spike during the summer, when you're using the system more often than at other times of year. However, you shouldn't ignore monthly bills that appear to be rising independent of how much you use the system. If your air conditioner is costing more and more money to operate from month to month, and you're not using it enough to justify the increase, you should have a professional examine the system.
Odd Noises
If you've been using your air conditioner for a while, then you know what it sounds like when it's on. If you suddenly start to notice weird noises coming from the system this summer, don't ignore it. Odd noises often indicate that something in the system is malfunctioning. How severe of a malfunction depends on the sound. You're going to need to have a professional examine the system to determine the exact nature of the problem, though. So, make sure you schedule an appointment if you hear any unusual noises coming from your system this summer.
Saddleback Plumbing offers air conditioner repair services throughout Laguna Niguel, CA. Contact us today for an appointment.