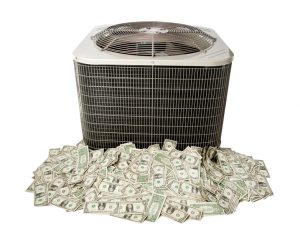 Southern California summers are wonderful—and sometimes not so wonderful when the serious July, August, and September heat waves hit. Air conditioning systems run often during the middle of the year, and the drain they place on electricity means higher utility bills throughout the season.
There's no way you can completely avoid a rise in electrical costs during summer—unless you never turn on the air conditioner at all, and you don't want that. But there are ways to improve air conditioning system efficiency and cut down on unnecessary use. Those summer electric costs don't have to be that high! We have advice on keeping summer AC costs within reason.
Always (always!) have the system professionally inspected and maintained
Regular air conditioning maintenance before the summer heat arrives is the essential step in keeping bills under control. A professional cleaning, inspection, and adjustment removes strain from the unit to help it keep its efficiency rating. Each year an AC misses maintenance, it will become costlier to run. Maintenance helps prevent numerous other problems, so please have this schedule ASAP if you haven't yet. Our MVP Program makes maintenance a snap.
Know the best thermostat settings
Turning the thermostat up and down throughout the day is a sure way to waste power. Instead of dialing it down to 60°F when you feel hot and then shutting it off when you feel too cold, let the thermostat sit steady at around 78°F during the day when people are home. Raise it about 8°F at night or when the house is empty. (A programmable thermostat makes this easier.) It costs less to run the air conditioner at a steady warmer temperature than to keep pushing it down too low.
Never forget to change the air filter
Your HVAC system has an air filter to protect the interior of the cabinet from the dust and dirt the blower fan draws in through the return air ducts. The filter doesn't clean itself off, so after one to three months, it will become clogged. A clogged filter forces the blower fan to work harder for poorer results, and you'll see the consequences on your utility bills. Change the filter regularly through the summer (every one to three months) and you'll avoid a spike in costs.
"Fan only" mode is your friend
On days when it isn't too sweltering hot, give the AC a break for a stretch and instead set the HVAC system to "fan only" mode. The fan will still draw on electrical power, but much less power than what it takes to run the AC's compressor. Open the windows in your house, and the circulation of air from the central fan and fresh air from outside will help you keep cool for less.
Consult with the pros
There are other types of air conditioning service in Orange County, CA that can help you save money on cooling during the summer. Repairs, upgrades, new thermostats, etc. Speak to our experts to find out what they can do to make your cooling better and less expensive.
Saddleback Plumbing has served Orange County since 1981. Trust us to handle all your air conditioning concerns.